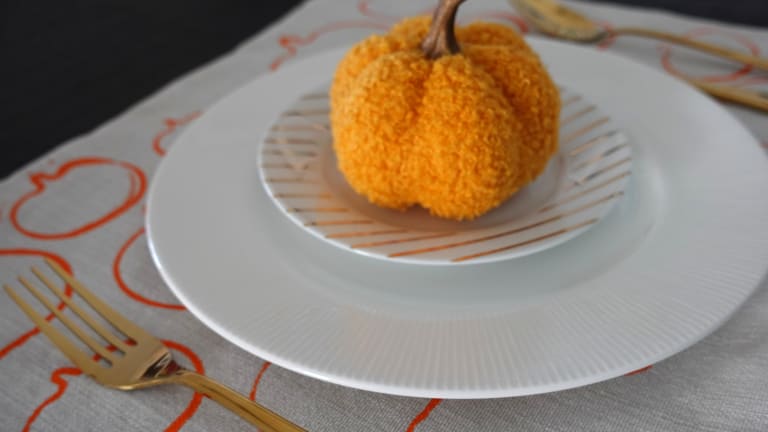 Pumpkin Cookie Cutter Easy Thanksgiving Placemat Craft
An easy way to make a festive Thanksgiving table and get the kids involved in table setting and prep.
With Halloween in the rearview mirror, we look ahead to one of my favorite holidays, Thanksgiving. I love the simplicity of this holiday. It's all about gathering friends and family around the table to join in giving thanks. 
Related: Thanksgiving ABC printable
Let's Get Crafting
It's a time to take a breather from the pressure to shop or be artificially merry. I like the simple idea of taking a pause to focus on gratitude. 
Since the kiddos have some free time with school being closed, I enlisted the help of my favorite crafter to come up with an idea for festive fall placemats that require very little finesse. Enjoy what our master crafter, Karimah Henry from the site craftingafunlife.com, has designed for your harvest table.
This craft uses cookie cutters as stamps. It's an easy way to make a festive Thanksgiving table and get the kids involved in table setting and prep.
Pumpkin Cookie Cutter Craft Supplies
We've supplied shopping links on Amazon using affiliate links to help you stock up on what you might need.
Pumpkin Cookie Cutter Craft Directions
First, you will need to prep your work area by placing a plastic tablecloth down to protect your surface, especially if small children are helping you with this project.
Next, iron your placemat or fabric then lay it flat on top of the plastic tablecloth.
Pour some paint onto a paper plate. It needs to cover at least the length and width of the cookie cutter. You can use a brush to even out the paint on the plate.
Finally, dip the cookie cutter into the paint then stamp it right onto the placemat. Make sure to press evenly around before you lift up the cookie cutter. Get creative with your design and pattern. Use different size cookie cutters or different color paint for the pumpkins.
This is a fun project that can be done the day before Thanksgiving. And of course, you can use this concept for any holiday. Just switch out the colors and the cookie cutter shapes.
PREPARE FOR THANKSGIVING CHECK OUT OUR FAVORITE POSTS:
PIN IT!
For more Fall crafting fun, be sure to follow our Fall Thanksgiving & Halloween board here.
Momtrends was not paid for this post.