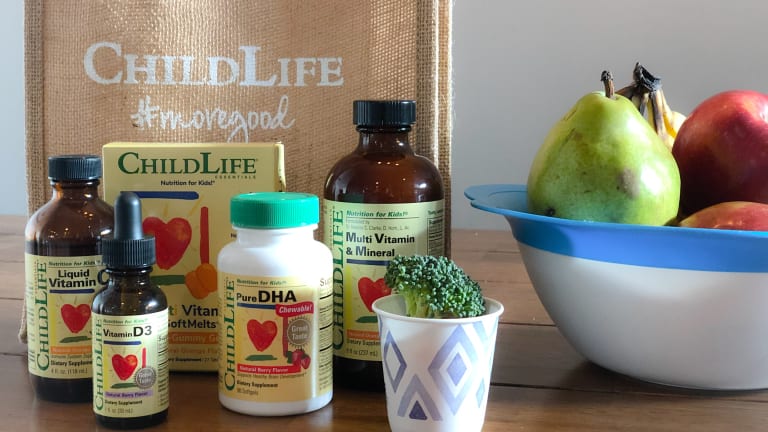 Prioritizing My Family's Health and Well-Being
I've never been big on New Year's resolutions. I feel like setting lofty expectations is a recipe for disappointment. It's not that I don't want to realize goals, I just don't like the "all or nothing" mindset that often accompanies the "New Year, New You" mentality.
This year, though, after all the wear, tear, and stress of 2020, I'm shifting my perspective. Instead of dreaming up career aspirations, attempting to plan travel, or aspiring to achieve something grand, I'm reining it all in. I'm sticking to what matters the most, and focusing on tactical, simple changes to keep my family healthy, happy, and balanced.
What's more, I'm embracing the learning process. I'm realizing that if something doesn't work, I can change course. Yes, January 1 has come and gone, but that doesn't mean we can't continue to grow and evolve and plan and take action. Heck, I don't make resolutions, but I can commit to showing up for my family and taking the helm when it comes to our individual and collective health and well-being.
Want to join me on this journey? Here's what we're doing:
We're Taking Our Vitamins
I'm going to admit something here. My doctor told me years ago that I'm seriously deficient in Vitamin D, and I sort of ignored his advice to add supplements to my daily routine. What's more, I took a blasé attitude about my kids' vitamin consumption. I'm ashamed to admit that I bought the same -- eh hem --colorful cartoon brand vitamins I took as a child in the '80s. (You got me?)
That's changing. I recently discovered ChildLife Essentials® Supplements, and I'm completely committed to upping our game and keeping our new regimen. With a mission to deliver kids of all ages -- from infants to teenagers -- the vitamins, nutrients, minerals, fatty acids, and antioxidants their growing bodies, minds, and immune systems need, ChildLife Essentials® is all about uncompromising quality and efficacy.
There's a wide range of options to meet a child's individual needs. Whether you choose immunity enhancing options with elderberry or zinc for school-age children (great for cold and flu season!), organic drops for a brand-new baby, or daily core multi-vitamins for filling in nutritional gaps (who has a picky eater?!), you can feel confident that ChildLife Essentials® are gluten-free, non-GMO, and without fillers, artificial colors, flavors, or sweeteners.
My littles really like the line of SoftMelts™. They have a satisfying jiggly jello-like texture that's fun to put on your tongue -- you can chew or let it just melt away. They're naturally sweetened with a hint of berry flavor that's not at all overpowering.
I appreciate that it's sort of similar to a gummy, but not like the fruit snacks they beg me for all day, every day. They understand that this is their vitamin; it's not a treat, it's an important addition to their daily routine (but, of course, it certainly doesn't hurt that it tastes good, too!). What's more, the SoftMelts™ are individually wrapped so they don't dry out like lots of other chewable gummy vitamins. Browse and purchase the options, here.
Tip: Set an alarm on your phone in the morning as a reminder to take your vitamins daily. No excuses!
We're Getting Outside -- Every Day
We've been spending a lot of time indoors -- like, a lot. It's winter in New York, and I'm not exactly excited to stay outside for extended periods of time. And while my kids would happily brave the elements to get out, get air, and go have fun at parks and playgrounds, I often quell those requests -- because, brrrrr!
But, as much as I'm not amped for frosty fun, I'm also sick of the screens, the video games, and the non-stop bickering. I notice such a strong correlation between our inactivity and the kids' moods. When we're stuck inside, they're cranky and stifled -- and, the truth is: so am I. We need to spend time outside every day. We need to breathe in fresh air. We need to be active instead of sedentary.
I've invested in better winter (and rain) gear to ensure that we can continue burning energy and having a blast out and about. It's all about a change of scenery and perspective.
We're Making Mental Health a Priority
That mental-health stigma we've all heard about is fading; and, honestly, I couldn't be more relieved. As someone who has struggled with anxiety -- and someone who has witnessed my children manifest stress in unhealthy behaviors, I'm happy to know that addressing mental health issues head on is more and more common. It's no longer viewed as something to hide or be ashamed of.
I've also realized that I'm a way better mom (and role model) to my children, when I prioritize my own mental health -- with quality alone time, therapy sessions, meditation, and more. Self-care equates to mental health -- and not just for moms. I'm trying to teach my kids that they can and should do the things that make them feel happy, adjusted, and balanced. But first I have to practice what I preach.
We're Getting Stronger
Another dose of truth? I haven't truly exercised regularly in, well, ever. I'm admittedly someone who hates working out. But I'm on a mission to change this mindset for my own sake and that of my family's. And while this may sound like a futile effort for someone who's evaded exercise for decades, I'm proud to say that I kicked off this goal (not resolution!) early in December, and that, over the last few weeks, I've felt a change in my body and my mentality.
I no longer look at exercise as something I need to do to "get skinny" or "lose weight." I want to feel stronger, more energized, and more present for my family, and I've finally learned that exercise is an essential step in this process.
What's more, I want my kids to see this change and experience it with me. I want them to know that it's important to feel good in your body. This shift starts now.
Making health resolutions may be cliched, but creating change is not. It doesn't take a lot of effort, just some small mental and physical shifts -- and maybe a dose of daily Vitamins. You've got this. We've got this!
This is a sponsored post. All opinions are our own.