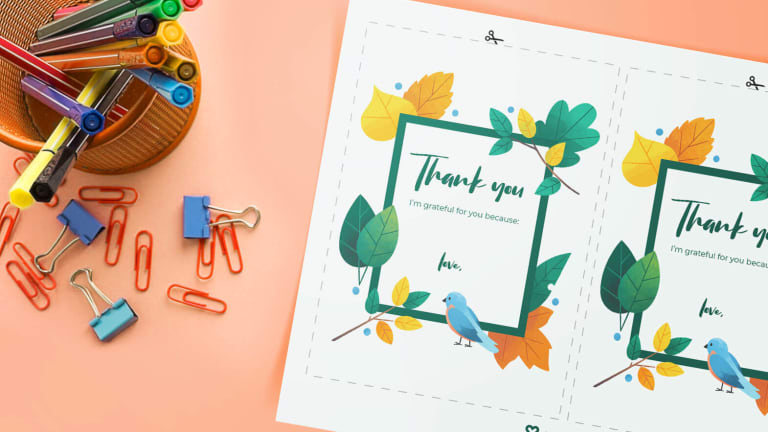 Printable Gratitude Activities for Kids
We were inspired to get invested in a gratitude practice that involves the entire family. These two simple gratitude activities are easy to pull off.
Gratitude can be expressed in many forms. A simple thank you can go a long way as well as a note or a drawing from a loved one. Due to families being separated and school closures it's easy for kids to feel disconnected and out of sorts.  I have been thinking about what I am grateful for as well as how to install this appreciation into my children's lives.
Related: Pen pal tips and ideas for kids
We were inspired by the folks at HelloBestow.com to get invested in a gratitude practice that involves the entire family. These two simple gratitude activities are easy to pull off and don't require a ton of materials or oversight.
The Power of Gratitude
Gratitude is a transformative power backed by science. One study showed that practicing gratitude is linked with an uptick in weekly exercise and it can increase our happiness by 25%! 
Create at Gratitude Jar
You can teach your kids gratitude with a daily gratitude jar activity. Each day, ask your little ones to write down something they're thankful for. The power of positive thinking can improve their mood and happiness.
Materials needed for your Gratitude Jar
3 sheets of regular paper
1 sheet of sticker paper
Scissors
A color printer
A mason jar
Directions: Start your gratitude jar by printing the cards below on colored paper. Cut along the lines to get 10 gratitude to-do's. For a full month's supply, print three times. From there, replace your regular paper with sticker paper and print the gratitude jar label. Cut this label and attach to a mason jar. Voila! You're ready to start your gratitude jar. Decorate your jar with colorful ribbon or paint. 
Click here to download FREE Gratitude Jar PDF printables
Gratitude Thank You Notes
Giving to others is a great way to boost your own spirits. This is a great way to keep in touch with friends and family you don't get to see in person. And don't forget about teachers or those working hard right now in the post office and grocery stores.
Materials Needed for Gratitude Thank You Notes
1 sheet of regular paper or cardstock
Scissors
A color printer
Directions: Print your thank you notes at home on regular paper (or cardstock for a sturdier feel). Make sure to use color ink to take advantage of our colorful and creative design. When you're finished printing, cut along the lines so you have individual thank you notes. Then, start writing your messages of thanks.
Click here to download FREE Gratitude Thank you note PDF printables
Get more Gratitude Practices from Bestow
Gratitude is kid of like exercise, you need to practice it regularly for the best results. Bestow has more ideas on how to work being thankful into your daily life.
About Bestow
Bestow is a new kind of life insurance company. It was founded but two dads who wondered why life insurance us so complicated. You can find out more here. 
MORE KID-CENTRIC FUN FROM MOMTRENDS
PIN IT!
Need more ideas on what to do with the kids? Be sure to follow our Activities to Do with the Kids board on Pinterest here.
Momtrends was not paid for this post