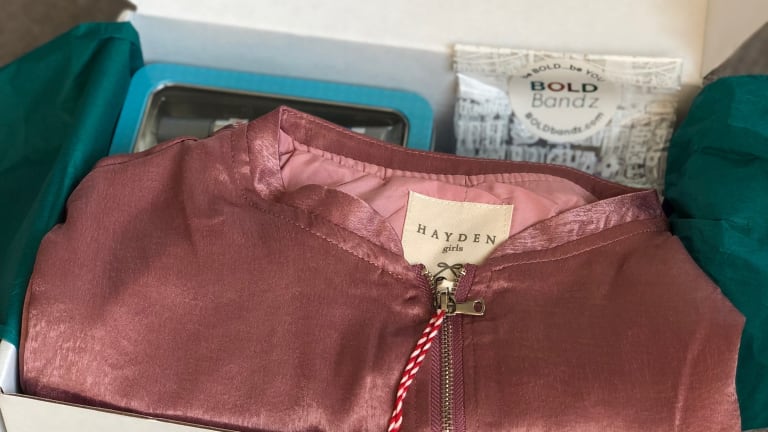 Positive Subscription Box for Girls
Fashion Unboxing Just for Tweens
Being a tween girl is awesome, there have never been more empowering messages for them. They can be smart, strong and creative and it's all encouraged. Now, that's not to say sometimes tweendom isn't confusing. There's puberty to reckon with and often shifting interests. My daughter is headed to middle school next year and I'm always on the hunt for ways to make her feel great about herself and love being 10. When I learned about this new positive subscription box for girls, I thought it was a great idea!
Related: Kidpik fashions delivered to your door.
Strong Selfie Subscription Boxes
A new company decided to jump into the subscription box trend and they've developed a box for tween and teen girls. Strong Selfie was created to empower young girls and encourage them to be their strongest selves.
Strong Selfie is a quarterly subscription box (you might compare it to Stitchfix or Birch Box). While those companies are targeting the millennial crowd, Strong Selfie is going after the next generation, girls 8-17. 
The boxes aim to be trendy, positive and purposeful. There are two age groups to select from Bloom and Burst. Bloom box is for girls ages 8-12 and Burst is for girls ages 13-17.
In the box we received, I was happy to find a great assortment of brands. Some of what they sent was new to me, they really are hunting for cool trends. Each box will contain a mix of beauty, fashion, health and fun items. The boxes retail for $59.95 but feature at least $100 worth of product! 
What's Inside the Spring Strong Selfie Box?
We got the Spring Bloom Box for 8-12 years old; it will be available in June.
Luv Ur Skin Three Piece Face Skincare Set
Fashion Angels Journal
BOLD Bandz non-slip headband
Hayden Girls Pink Ruffle Jacket
Lovely Candy Sour Honey Gummies
Strong Selfie Unboxing Video
I asked my tween to unbox the Bloom Box for a YouTube video. Her favorite thing was the Hayden jacket, but she loved the gummies too!
In addition to the swag, there are also four kindness cards for your girl to keep or use to lift others up with, and an opportunity for parents to connect with their daughters on how they are feeling about themselves. Thoughtful shopping at it's best!
For all the cool aunts and grannies out there (uncles too!) this is a terrific birthday gift. And middle school graduations are popping up too. It's a thoughtful and empowering tween gift that I just adore.
Get more information about Strong Selfie here https://strongselfie.com/
MORE KID-CENTRIC STYLE PICKS FROM MOMTRENDS
PIN IT!
Need more ideas on fashion for kids? Use Pinterest to save your favorite fashion finds for you and your kids. Be sure to follow our Kids Fashion and Style Board here.
This Positive Subscription Box for Girls feature is not sponsored.