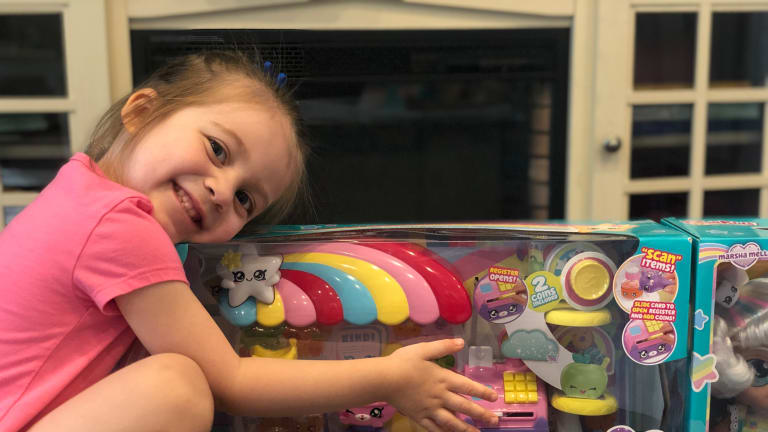 Playing, Learning, and Pretending With Kindi Kids
It's been a long summer for this four-year-old girl. Her summer enrichment program wrapped on the first of August; so, while her brother is still off living that big-kid camp life every day from 9 AM to 4 PM, she's stuck at home stifled by the relentlessly monotonous schedule of her almost-five-month-old sister. Suffice to say, she's "BOOOOOORRRRRRED"—and I hear about it pretty much nonstop.
I've been trying (operative word) to limit the screens and encourage more creative endeavors; but, after a few consecutive weeks of the same ole toys and same ole art supplies and same ole same old, she's—how do I put it—OVER IT.
I want her to play freely and imaginatively and use that uniquely awesome little brain of hers. After all, she'll be off to "big-kid school" in a matter of days, where learning through interactive play is the name of the game. But, I get it: sometimes you need a new toy or two to spark inspiration, to stir up ingenuity, to tap that unlimited potential. So, to celebrate this milestone transition—and keep my sass monster engaged in play, I introduced her to Kindi Kids, a line of rainbow-inspired dolls, accessories, and playthings meant to encourage fun, foster friendship and make the first day of school a bit less scary.

Meet Penelope's new Kindi Kids bestie, Donatina. She's the absolute sweetest with her pink hair, glittery doe eyes, agreeable bobble head, and darling headband. But her best accessory of all: that bowl of pink donut-cereal! Penelope loves to feed her Kindi Kids pal; and she can't get over how Donatina can magically eat the cereal off her spoon. Naturally, Donatina is a regular at the breakfast table—and I get such a kick out of watching my little girl invent pretend-play social scenarios for them. Just the other day, she proclaimed it was snack time on the first day of school. She introduced herself, struck up a conversation, and shared her snack. It was the cutest—and it warmed my heart to see my little lady "practicing" for school.
Donatina is just one of the Kindi Kids dolls; there's also Peppa-Mint, Jessicake, and Marsha-Mello, my personal favorite—she comes with her very own cake pop to nibble on. Of course, there are also a few interactive playsets—like this colorful supermarket—to incite pretend play. It features a "Shop 'n' Drop" conveyer belt, Kitty Scanner, and register; plus Shopkins and coins. Penelope likes to imagine she's the local grocer and all the Kindi Kids are her loyal customers.
My soon-to-be student has been contentedly at play with her Kindi Kids; and I'm so happy to see her learn and grow through independent and interactive play—skills I know will serve her well in school.
In fact, I'm planning on getting her a new Kindi Kids friend to celebrate the first day of school. I know she's a bit nervous to make friends in a big new building; and a sweet new Snack Time BFF will be a reward she'll cherish on such a big day and the nod of encouragement she needs to know that Mama has her back… and so does her Kindi Kid.
Check out Kindi Kids, here: https://www.moosetoys.com/brand/kindi-kids/
This is a sponsored post.