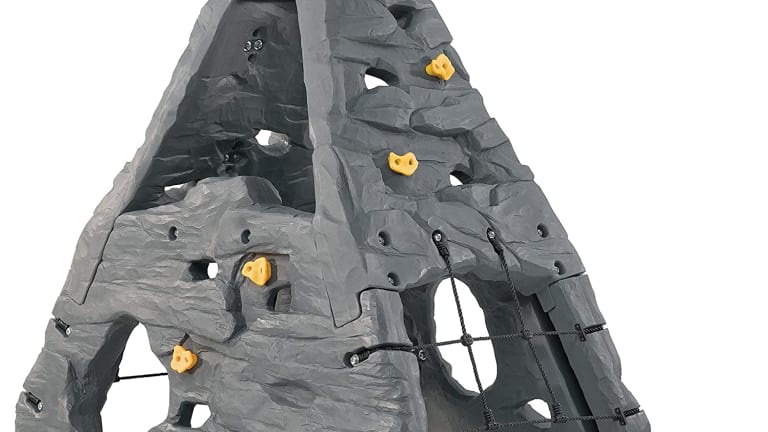 Play Rock Backyard Climbing Set
The Step2 Skyward Summit gives kids their very own climbing adventure.
My son is super tentative at the playground. He lets other kids pass him when he hesitates at the top of the slide and starts screaming if my husband pushes him just a hair too high on the swings. He generally skips the tall ladders and desperately clenches the ropes at the sides of a wobbly bridge.
Related: Cardboard ski craft for kids
I can't say that I blame the kid. I, too, am pretty timid when it comes to physical challenges. But it bums me out to see him look so passive as another—sometimes younger—toddler pushes past him to mount the climbing wall. He wants to do it. He's just nervous.
Step 2 Play Rock Backyard Climbing Set 
And that's why I'm so excited about our new backyard "mountain."
At over 6.5 feet tall, the Step2 Skyward Summit (note: this is an Amazon link) gives kids their very own backyard climbing adventure. It resembles a real rock wall, and features two levels of climbing surfaces for your little hikers to master. It also includes floor nets, cargo nets, grips and mounting hard wear. Its all-weather design makes it a durable choice year round too.
Grant still hasn't made it to the top of his personal mountain, but he's made some major ascending progress and I'm proud. Plus, the interior cave makes a great hiding spot—and an even better baby-jail for his little sister.
I can see his self-esteem increasing as he gets more confidence in his balance and foot work. In fact, just this past weekend he ran through an unfamiliar playground like a champ—climbed to the top of the tower, slid down the bumpy slide, and tried out the tire swing with minimal hesitation. After all, the kid has his own mountain... What can't he conquer?
MORE KID-CENTRIC IDEAS FROM MOMTRENDS
PIN IT!
Use Pinterest to save your favorite family travel destinations to help inspire your next trip. Be sure to follow our Travel with Kids board here.
This is not a sponsored post. It may contain affiliate links. All opinions are our own.