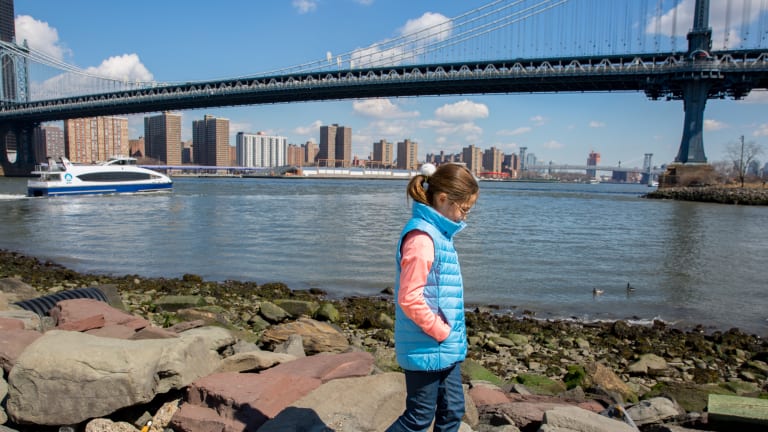 Play Clothes for Cool Kids
Finnish Brand Reima Brings Play to NYC
Have you heard of the Finnish brand called Reima? They are a big deal in Europe where they are leading the charge to get kids active and outdoors. Reima makes play clothes for cool kids. I learned about them at a ski show a few years ago. I saw a lot of high-tech, high-function clothing for kids to play in the snow. 
Finnish Brand Reima
Reima has been around since 1944. From the beginning the brand has been bringing families outdoors to play. This spring, my daughter is trying on the latest styles. As you can see, these spring pieces are versatile and perfect for a city school day or a trip.
The Finns don't believe in bad weather. They think it's all a matter of dressing for the environment. That's where Reima comes in. These clothes are meant to look great, but more importantly to give kids freedom of movement.
The collection is for children ages 0 to 12. For those of you with lean kids, you'll love this brand. It' not a baggy oversized cut,
Cool Jeans from Reima
Every New York kid needs a rugged pair of jeans. Sadly there's way too much concrete in this Jungle. The Reima Tide is a perfect pair.  They feature cooling technology (important with our wild weather fluctuations) and a fluorocarbon-free water and dirt repellent finish Teflon EcoElite® --which makes it easier when it comes time to wash them.
Shop the Reima Tide jean here.
Cool  Jackets from Reima
Layering is really important right now. When the girls head off to school it's 40 degrees and it can go up to 70 by the time school lets out. The Rejse coral pink top is a cross between a jacket and sweater. It can easily tie around a waist or tuck into a backpack. On cool mornings its the perfect light layer. And as temperatures drop it can tuck under a heavier jacket. Pick from coral or grey.
For a heavier jacket with even more versatility, check out the Float. My girl is wearing the light blue. We took it with us when we went to Wyoming and it's a GREAT wardrobe piece. 
The jacket has a light down fill for warmth, and it remains super lightweight. The sleeves zip off to make it a vest -- this could be the ideal coat to bring on a trip when you have to pack light. Oh, and did I mention, the hood also zips off! It's a 3-in-1 jacket.
Cool Sneakers from Reima
I'm in an ongoing battle with my girls to UNTIE LACES WHEN THEY TAKE SHOES OFF! I mean, it's really not that complicated to undo what took a few seconds to tie. But no. They just kick them off when they get in the door.
End rant. 
Slip-on sneakers are the answer. This Ashe sneaker in soft red is perfect for the indoor/outdoor action my kids take on. We don't wear shoes in the house (and you might consider doing the same) so this easy pull-on canvas shoe works for us. It comes in four colors and a HUGE size range. The toughest part is doing the European size conversion.
Play Clothes for Cool Kids
Functionality, safety, sustainability and innovation are fundamental to Reima design. By focusing on active kids' needs, we are able to provide relevant solutions to parents, at the right time, always emphasizing product lifetime management. Soon there will be a Reima NYC store coming, for now, shop online.
Ready to try Reima? Visit Reima.com
Pin it! 
Use pinterest to save your favorite mom resources.
This Play Clothes for Cool Kids feature is not sponsored.