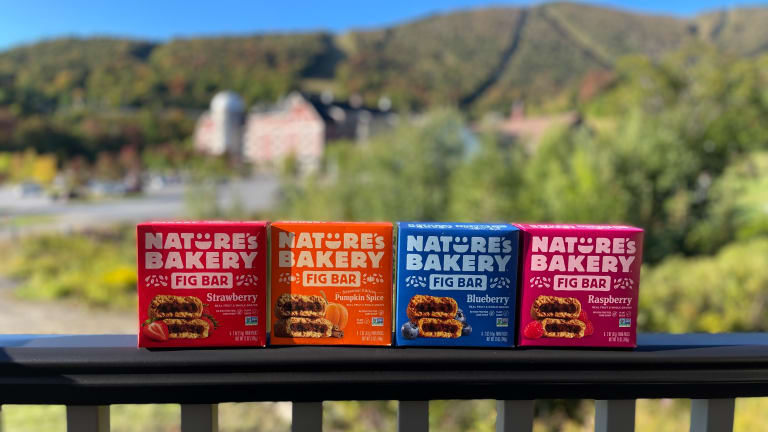 Planning Snack Sized Fall Family Adventures
Snack Sized Adventures are bite-sized activities built to easily fill in the gaps and get families off screens and couches.
Fall is simply the best time of year for family adventures. When you live in New England, nature simply beckons you outdoors. Life was simpler when the girls were little, we had wide open calendars and outdoor adventures were easier to execute. But now with school plays, cross country meets, and  soccer games we have to be very intentional to make room for our beloved fall favorites. I've become a huge fan of this resource and want to share more about the better-for-you snack brand's concept with you.
About Nature's Bakery's Snack Sized Adventures Microsite:
A survey conducted by Nature's Bakery found the majority (56%) of parents believe it's difficult to find an activity the whole family would be interested in. So, at Nature's Bakery they thought, "what if we could make it really, really easy for parents to get the whole family outside for a feel-good dose of fresh air and fun?"
They dreamed up the Snack Sized Adventures concept. Simple and inexpensive tech-free activities that require minimal planning time, so you have maximum fun time. The Snack Sized Adventures microsite www.snacksizedadventures.com is a parent's sigh of relief for rainy days, long road trips or even lazy weekends. Each adventure helps to increase family bonding and bridge the gap between every day and amazing. 
Five Favorite Fall Snack Sized Adventures
This is my annual fall adventure punch list. It really doesn't feel like I embrace the season without spending time outdoors, and this is our top five list. We've chosen some favorites from Nature's Bakery's microsite and built these mini adventures into our weekend plans in October, and always make sure to have our favorite Nature's Bakery snacks in tow!
This could be a fun apple picking trip or a walk through a corn maze, the idea is to get out and spend a little time where food is created. For us, we're lucky to have Lareau Farm which overlooks the Mad River in Vermont. It's a farm, inn and restaurant on 25 acre. It has a little self-guided tour to talk about sustainable farming, composting, and more.
Now this one is pretty specific to New England. Lots of the local ski areas host scenic chair lift rides in the fall. You'll get to see all the splendid fall color without committing to a huge hike. Our favorite spot is Mad River Glen.
If you do have a little more time, try a family hike. It doesn't have to be up a major summit. A simple nature trail will do. Here in Vermont, we're blessed with a trail system as well as walking paths. Do a quick google search in your area to find a just right hike for your family. All Trails is another great place to research hikes. (photo via www.instagram.com/TheShirleyLife/)
I'm all for mixes that fill my home with the scents of autumn, and my girls love a good baking project. Nature's Bakery even has seasonal that taste like a soft-baked pumpkin pie on-the-go!
During the pandemic, chalk messages became a thing. It was a way to get kids outside and creative and a little messy without having to dream up some HUGE craft project. I'll also put rock painting into this category. Keep the supply list simple and the messages positive. 
 THE PERFECTS SNACKS FROM NATURE'S BAKERY
Of course, you'll want to have some wholesome snacks to fuel these adventures. Nature's Bakery snacks are chock-full of nutritional and wholesome ingredients like sun-ripened fruit and hearty whole grains, and are plant-based, nut-free, dairy-free, and Non-GMO Project Verified.
The Fig Bars are the family favorites here. We never head out on an adventure without them (be sure to try the Pumpkin Spice flavor!). Each snack is thoughtfully baked to make better-for-you snacking a deliciously easy choice that appeals to the whole family. Nature's Bakery products include Whole Wheat Fig Bars, Gluten Free Fig Bars, Oatmeal Crumble Bars, Baked-Ins, and Double Chocolate Brownies.
For more information, visit NaturesBakery.com or follow the brand on Facebook, Twitter and Instagram.
This is a sponsored post.