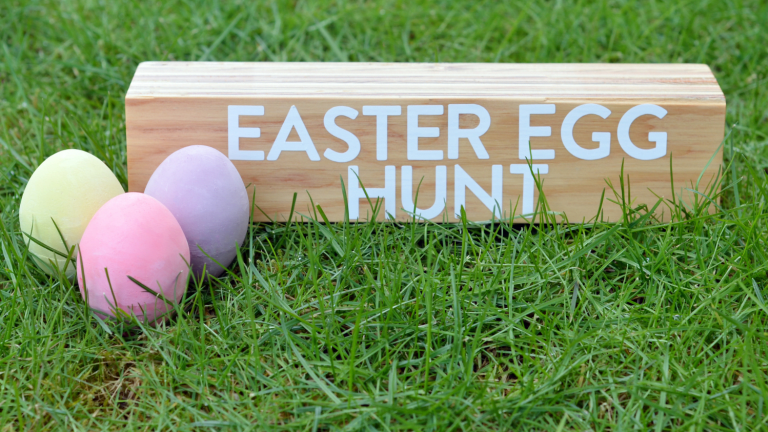 Publish date:
Planning a fun Easter Egg Scavenger Hunt
Get your kiddos moving with an adventurous egg hunt, we're helping with printables to help plan a perfect Easter morning.
Get your kiddos moving with an adventurous egg hunt, we're helping with printables to help plan a perfect Easter morning.
We are so excited for Easter this weekend. With the arrival of spring, we love the idea of getting the family outside for some exploring. We've come up with some excellent FREE printables to help with planning a fun Easter egg scavenger hunt. 
Related: DIY  Easter bunny basket and carrot hunt game
Easter Egg Scavenger Hunt Printables
Deciphering clues makes the egg hunt MUCH more exciting. You don't have to make them rhyme or too clever, it can be as easy as "go to the place where get clothes clean" (i.e. the laundry room). A good hunt builds anticipation and excitement. 
To get you started on your Easter scavenger hunt, we've put together these printables. Grab some card stock and a pen and fill in the clues. 
Download page one of Easter Egg Scavenger Hunt Printables here. 
Download page two of Easter Egg Scavenger Hunt Printables here.
Easter Egg Scavenger Hunt Inspiration
Now that you're motivated to plan a hunt, it's time to pull together a basket and hide some eggs. Here are some clues from Personalcreations.com to get your started: 

5 Pretty Ways To Organize Your Jewelry
I admit - I'm guilt. Despite my best efforts, my "jewelry drawer" has become a tangled mess of necklaces, bracelets and earrings. This cluttered collection not only makes it hard to see what I have, but difficult to untangle the pieces I do want to wear! This summer, I'm ...read more
This Year's Coolest Jumbo Pool Floats
Pool season is almost here! I can't wait to relax, read a book, and sip a cocktail while lazily drifting in an oversized float. (Just kidding, I have two toddlers--but a swim mama can dream, right?). If you've got a staycation planned, check out this year's coolest jumbo pool ...read more
Crystal Clear and Pristine: Pool-Cleaning Tips
Tropical Storm Isaiah gave us quite the midsummer surprise here in the suburbs of New York City. We just got our power back on after a whole week of darkness! With trees down, debris everywhere, and lots of uncertainty, one thing we forgot to check on: our above ground Intex ...read more
10 Outdoor Clues for Big Kids
I sit very still when I don't have a rider, check under my tires to get what you desire. (car)
Fill me with seeds and put me up high, my guests come from up in the sky. (bird feeder)
On a hot day, I give you a shady seat. Come sit here now to find what you seek. (tree)
I am a box with a stick, and and I'm where you'll find mail quick. (mailbox)
Use me to give plants a drink, you fill me up from the kitchen sink! (watering can)
I am where you throw out trash and people say I'm nasty and yuck. But if you don't find your clue you'll be out of luck! (garbage can)
I've got charcoal in my belly, and metal feet. Once I am hot, it's time to eat. (BBQ)
Use me to cool down the ground on a hot day, I am long and effective I must say. (hose)
Reach new heights by swinging on my seat, a regular chair just can't compete. (swing)
I separate your house from your neighbors, and am made from wood. (fence)
10 Outdoor Clues for Little Kids
I have windows and doors but I am not your house! I go vroom vroom and love to be ridden. (car)
You step on me every day before you leave. (door mat)
I hold food for birdies outside, check my opening for a special treat! (bird feeder)
I am green and I grow, and what you mow! (grass)
I love the outside, and have many green leaves. I grow big and tall and you love to climb on me! (tree)
If you can't see the Easter Bunny's bushy tail, be sure to check the mail. (mailbox)
Don't touch me if I'm on. I am where adults cook outside. (BBQ)
I hold flowers in my base, and love to be watered. (flower pot)
I give light to the porch, so you can see your steps in the dark. (porch light)
I am where the car is parked indoors, and am a large moving door. (garage door)
MORE EASTER IDEAS FROM MOMTRENDS
PIN IT!
Use Pinterest to save your favorite entertaining ideas. Be sure to follow our Easter Pinterest board here.
 This is a sponsored post.
For even more Momtrends, follow us on Facebook, Twitter, Pinterest and Instagram