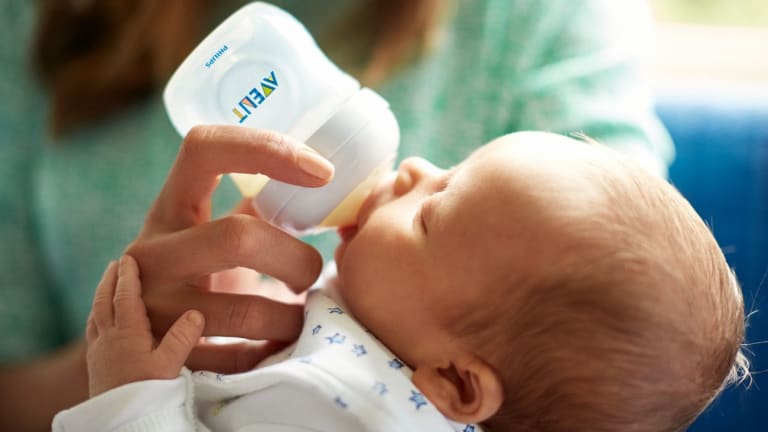 Publish date:
Fuss-Free Feeding with The Philips Avent Anti-Colic Bottle
Clinically proven to reduce colic and discomfort, the Philips Avent Anti-Colic bottle features an Airflex venting system designed to reduce gas and colic.
Clinically proven to reduce colic and discomfort, the Philips Avent Anti-Colic bottle features an Airflex venting system designed to reduce gas and colic.
I remember when I was pregnant with my first. I didn't realize how important, tricky, and consequential some seemingly minor decisions could be. For example, I just "eeny, meeny, miny, moe" picked a reputable bottle brand from the plethora of options on the shelf, registered for a few shapes and sizes, and called it a day...
Related: Best gear for feeding baby
Oh, how bright-eyed and naive I was back then! You know, before I had to listen to the heart-wrenching screams of a gassy, colicky newborn…
Little did I know it would take multiple tries and trips to the store to find an option that actually took the edge off and helped my otherwise inconsolable infant.
Yeah, not gonna sugarcoat it: both of my babies were fussy from the get-go—I mean, beyond adorable, but super gassy little bundles of discomfort, nevertheless. (Just look at that furrowed little brow!) It was awful, helplessly watching them wiggle and writhe in pain.
The second time around, with my daughter, I tried a Philips Avent bottle that was specifically designed with this troubling tummy issue in mind, and I saw, right away, that it seemed to ease her discomfort. And so, naturally, I still recommend this brand to new mom friends. (Make something that helps my babies feel good and gives me a moment of peace and quiet, and I'm a brand-fan and loyalist for life!).

Dinner with a View Brooklyn Bridge Park Estuary
Brooklyn keeps its cool vibe by continually updating the landscape. The constant flux of restaurants and entertainment keeps our community vibrant and one of my favorite things about where I live is getting the chance to explore. My latest adventure was for a dinner with a view ...read more
Get Ready for Summer Tea Collection Sale
Even if we all have to stay local, summer is going strong. As you head to the pool or day camp you might have noticed your kids GREW during the past year. Just in time for summer, Tea Collection is rolling out a big deal on swimwear and graphic tees for kids. I've enlisted some ...read more
The Key to a Great Overnight Oat Recipe
Working moms know the importance of meal planning. I'm getting ready for busy few weeks and I've been perfecting my fast breakfast options. I've been using Bob's Redmill Organic Steel Cut Oats to prepare my overnight oats for a nice, cold breakfast in the morning and I'm going to ...read more
Well, the Philips Avent Anti-Colic bottle now has a new look to accompany its new name—and I'm still singing its praises! Clinically proven to reduce colic and discomfort, the bottle features an Airflex venting system designed to reduce gas and colic by decreasing air ingestion—because babies tend to chug and gulp when they feed.
Philips Avent System
The Philips Avent Anti-Colic system includes just a bottle, cap, nipple, and ring to hold the nipple in place. Fewer parts mean fewer things to clean and less assembly time for tired moms. I remember trying a few other anti-gas bottles back in the day that required far more parts. It was a hassle to clean and I constantly had to get replacement pieces.
Better yet, the built-in venting system keeps air away from baby's belly; and a ribbed texture prevents nipple collapse for uninterrupted feeding—because, don't mess with Baby when she's hungry! Best of all, though, Philips Avent found that babies fed with this bottle experience 60 percent less fussing at night compared to those fed with the leading competitor's vented bottle.
Stress-Free Feeding
Dealing with colic and feeding-time fussiness can really put on a strain on Mom and Baby and make what's supposed to be a special time super stressful and extra exhausting. And that's why you'll try anything and everything to make it better for Baby. Make your first attempt, the Philips Avent Anti-Colic bottle. Just a piece of advice, from one mom to another…
Get the Philips Avent Newborn Starter Set on Amazon here.
More of Our Favorite Baby Gear
PIN IT!
Be sure to save your favorite gear for baby on Pinterest. Please follow our Gear for baby and kid board here.
Compensation was provided by Philips Avent via Momtrends. The opinions expressed herein are those of the author and are not indicative of the opinions of Philips Avent or Momtrends.