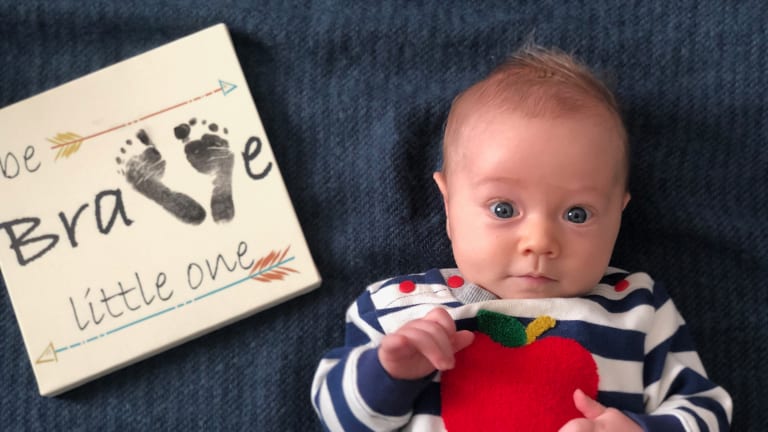 Personalized Baby Gifts
The Sweetest Treasures to Give and Get
Do you have a go-to gift for new babies? Buying baby stuff is fun, but there are so many adorable little options out there that it can be overwhelming. When a friend of mine has a baby, I always want to give something that's either going to be really useful, or unique and memorable. Or, ideally, both. But in the sea of baby products available, it's hard to know what to pick, or even where to start.
But one surefire way to make a gift for someone of any age special is to customize it, and I think that applies especially for new babies with brand new names. I've come up with a few options for personalized baby gifts. Hopefully they can help narrow the options in your baby present search!
· Stamped Canvas
Last month, Buckley and I had the chance to make a personalized Stamped Canvas. They are 8 x 8 canvas signs printed with messages that leave blank spaces for your baby (or pet, in some cases) to stamp his or her feet and, for some, hands too. You can choose from a variety of designs. The one I chose says "Be Brave Little One," with a space where the V goes to stamp the baby's feet.
Against all odds, the process was very easy and mess-free. If you need to see it to believe it, Nicole and I did the whole thing on Facebook Live and you can watch it here.
The inkpad is included in the package, as are wipes to clean your baby's feet after and wipe off the canvas in case you need to redo it. Amazingly, we didn't! It was a fun, easy experience, and we created a sweet little keepsake that looks so cute in Buck's room.
· Sterling Silver Baby Brush & Comb
This brush and comb set from Mark & Graham is classic and timeless. It's sterling silver, with the baby's name, birth date, or whatever words you'd like engraved on the back of the brush. I think this would be such a unique, elegant gift. I'm going to keep it in mind for friends' new babies in the future.
· Natural Wood Name Puzzle Stool
This name puzzle stool is not only a whimsically designed personalized keepsake; it's also a practical gift that will come in handy when the new baby hits his or her toddler years. A few companies make them, but I love the handmade look of the ones from this seller on Etsy.
· I See Me! Personalized Children's Books
I See Me! offers a whole line of personalized books for kids. We received one as a gift when Buck was born. It's called Goodnight, Little Buckley. The lilting words are perfect to read aloud, and the illustrations are beautiful. The baby's name isn't just inserted in the text; it's spelled out in the book's art too. I don't know how they do it, but it looks great! This is a gorgeous, special gift for a new baby.
Hope this helps with your newborn gift buying! For personalized gift ideas for adults, check out this post: "4 Unique Personalized Gifts."
PIN IT!
This is not a sponsored post. The Stamped Canvas Facebook Live was sponsored, but we loved it so much, we wanted to share it here too.