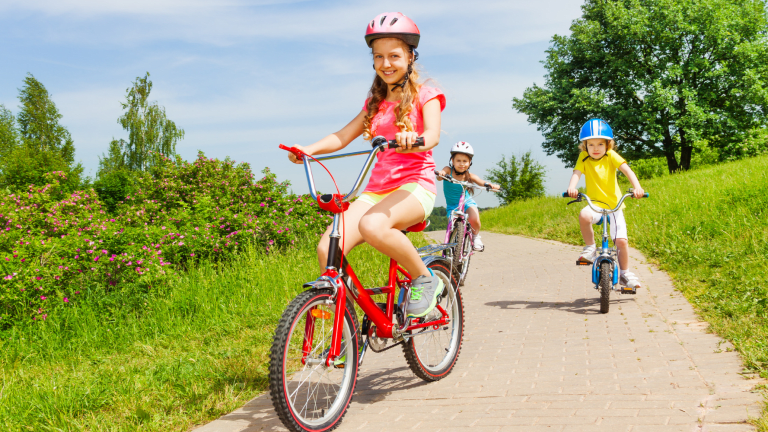 Outdoor Social-Distance Friendly Playdates
This is a judgment-free zone, so refrain from giving me side-eye when I gently ask, "Can we have play dates now?"
It's a tricky path to navigate, and I supposed it depends on where you live, what precautionary measures you take, and personal comfort level. 
After three months of strictly sheltering in place and homeschooling and zooming for all social activities, my family and I are slowly emerging from solitude.
We are going to parks and beaches--keeping our social distance--and trying to enjoy the smaller pleasures of summer away from the confines of the four walls we've been trapped inside for 12+ weeks now.
As restrictions have eased up, my kids have been begging to reconnect IRL with friends. I hate to be the bad guy, but this pandemic isn't over yet. Still, there mental wellness is suffering without age-appropriate human contact. I desperately want them to be healthy, happy creatures and I think there's a happy medium to be found. 
I'm not quite comfortable with free-for-all playdates, but I can find compromise in outdoor themed activities. Giving the kids a specific focus helps ensure they won't end up wrestling each other or breaking social distance. 
If you, too, are starting to socialize outdoors, here are a few ideas:
BIKE RIDES TOGETHER 
If you are one of the many, many people who used "quaratine" as an opportunity to teach your kids to ride a bike, your hard labor and persistence may now pay off.
My seven year old and five year old are both still using training wheels, but I am pretty confident that by mid-summer, they will both be riding on two alone. And it's a huge step from where we were in March when both of my kiddos cried at the very idea of getting up on the saddle. Now, they beg for daily rides around our neighborhood!
If your kids are comfortable on their bikes and old enough to ride independently, inviting friends for a group bike ride is a great way to foster activity, encourage socialization, and, most importantly, keep adequate distance!
WATER BALLOONS
The 1980s summer of your childhood is calling (okay, I'm aging myself now!), and it's time for a good old-fashioned water balloon fight. This is a great way to keep kids physically active during a play date, but ensure that they keep a safe distance--while running away from each other! 
Water balloons are way easier than they were when we were kids. These day, our littles have it easy. You can fill a whole bunch at one time--so keep 'em comin'!
OUTDOOR MOVIE
This is one of the best activities to make sure your kids are keeping to their own designated space. Separate chairs at a six-feet distance and set up a fun ambient scene for an evening alfresco film viewing. You'll need a projector and a while sheet or designated screen. Avoid communal snacks; have separate popcorn bowls for everyone or ask parents to pack movie eats for their own children.
BEACH TRIPS
A jaunt to the beach is always welcome, but it's even better when you can build sand castles with friends. Socializing on the beach is a great option for two or three families. Each family can set up their own designated beach blanket, and can space out accordingly. BYO picnic lunch, cooler, and sand toys. Have one person bring a speaker, and enjoy the time together, but apart.
OUTDOOR ART
Set up stations for your kids to make nature canvases. Easels can be positioned six feet apart to ensure distancing. The kids can paint a horizon, a sunset, or a floral scene. Another simpler option is to space out and create a chalk grid in your driveway. Each kid can get their own square to decorate.  
Want more ideas for social distancing fun? Check out these Momtrends articles.
1. Amazing Water-Play Activities to Turn Your Backyard Into a Veritable Waterpark
2. Screen-Free Boredom Buster Ideas
This is not a sponsored post. All opinions are our own.