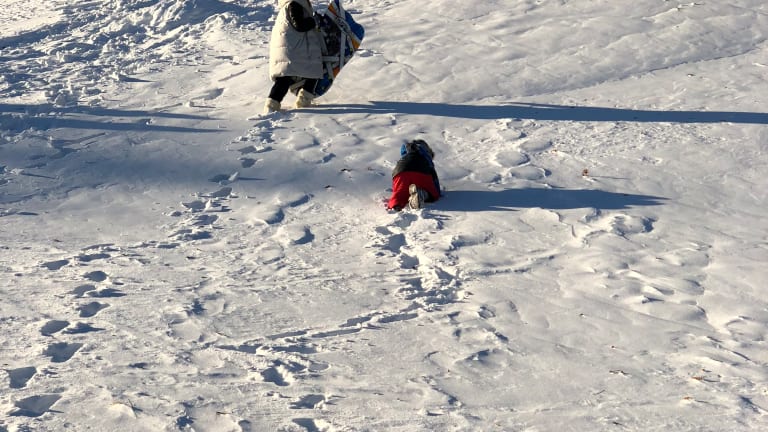 Sleds, Sleighs, and Snow-Day Toys
Oh What Fun...
We got a lot of snow in these parts last week. School was canceled on Thursday and Friday, and we ended up having an unexpected four-day winter-wonderland weekend. 
Related: Winter safety guidelines for sledding
It's our first January in our home, and this winter has already seen significantly more accumulation than last. So we were super psyched to scour the local scene and find the ultimate town sledding spot. 
We hit up the elementary school first; and while there's a great hill, the snow was significantly gone. Essentially, kids were gliding on freezing cold grass (but, hey, it still worked!) We were then tipped off that there's a not-so-secret, not-so-accidental hole in the gate at a specific intersection at a nearby golf club. And SNOW-MY-GOODNESS, it was a sledder's winter paradise. I actually saw a kid snow-boarding the hills!
I have to admit, I forgot how much fun sledding and sleighing and tubing can be! I We had the best time, despite the frigid temps, and it reminded me that it's so important to get fresh air every day. And, yes, it's worth the time it takes to get the kiddos in their snow bibs and gear!
It's only January 9, and if the season thus far is any indication, there's bound to be a lot more snow on the horizon... and that means a lot more weekend fun. I've rounded up a few favorite snow toys to make those snow days a whole lot more enjoyable. Bundle up and enjoy!
1. Snow Castle Building Set, $21/ 2. Zipfy Luge Toboggan, $43/ 3. Snow Scooter & Fold-Up Snowboard, $36 / 4. Snow Man Kit, $10 / 5. My First Snow Play Skis, $74 / 6. Sno-Art Kit, $15 / 7. Slippery Racer Disk, $24 / 8. Snowball Maker and Thrower, $13
MORE WINTER FUN FROM MOMTRENDS
PIN IT!
Need more ideas on what to do with the kids? Be sure to follow our Activities to Do with the Kids board on Pinterest here.
This is not a sponsored post. It contains affiliate links.