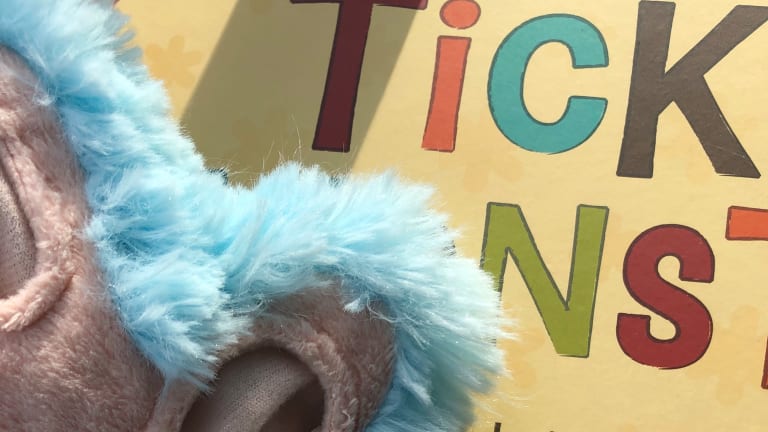 Our Favorite Books for a Pre-school Classroom Read-Aloud
Top Picks for Your Secret Reader Classroom Stint
I had the pleasure of being the secret reader in my daughter's pre-K class this week. I can't even tell you the look of sheer delight on my little one's face when I magically appeared in front of the famous smart board. I've never felt so famous or flattered. (Imma soak it in while it lasts; I know she won't always want me so "involved.") 
Since it was the first day back after the holiday, I didn't have much time to prepare. So, rather than run to the book store for a shiny new book, I had to dig through the archives. And it turns out, I had some pretty stellar options I had totally forgotten about. 
The three books I decided to bring were a total hit with the four and five year old crowd, The children were engaged, entertained, and enthralled. They giggled, they clapped, they asked for an encore--what more could a secret reader ask for?
Whether you're reading to a whole class of kiddos or a small group of your own--these are 10 of the best books for a read-aloud.
1. Tickle Monster, by Josie Bissett - This adorable rhyming book about a furry-pawed cuddle creature from Planet Tickle is as giggle-inducing as it sounds. It comes with a wearable mitt made for tickling. (Of course, tickling kids that are not your own is frowned upon, but making your own kiddo the target of public tickle torture is always acceptable in my book. And you can encourage your child's young peers to follow along and tickle their own footsies, and arm-pits, and knees! I promise, they'll find the whole thing hilarious.)
2. Press Here, by Herve Tullet - This clever interactive book invites young readers to "shake things up" (literally). Kids can take turns pressing the dots to activate the illustrations. It's awesome to watch little ones get so excited by all the changes they "initiate."
3. Dragons Love Tacos, by Adam Rubin - Kids love to hear this tale about dragons who just can't take the heat! It's like a fiesta every time you whip out this book about dragons who eat salsa by the heaping pile--as long as it's not spicy! You can use a lot of vocal inflection in this fiery storybook that will get children all riled up.
4. The Book With No Pictures, by B.J. Novak - If one thing is true: kids love watching grownups make fools of themselves--so they will be delighted to watch their adult reader say all of the ridiculous things that this "boring" picture-less book mandates.
5. Rumple Buttercup: A Story of Bananas, Belonging, and Being Yourself, by Matthew Gray Gubler - It's always smart to read a book with a great message. And this picture book is charmingly silly and sweet, but equally meaningful with the moral of accepting and loving yourself.
Want more from Momtrends?
1. Why You Should Read to Baby Every Day
2. Celebrate Read Across America Day
This is not a sponsored post.