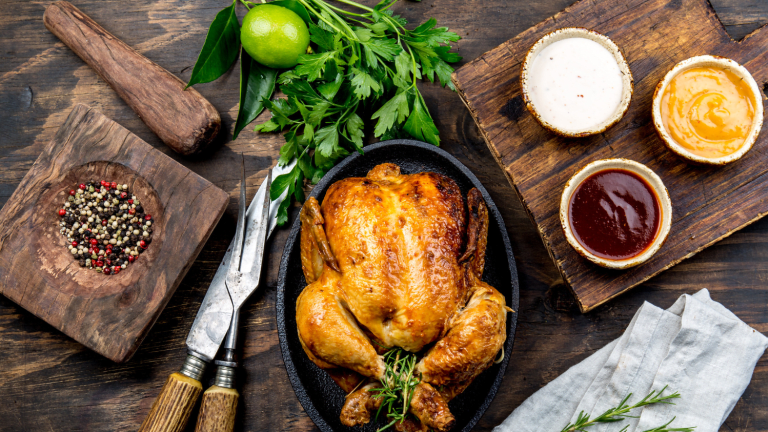 Delicious Roasted Chicken Recipe
c
With our weeks being so busy with school and life, I really look forward to slowly down at the end of the day with a family dinner. For the most part I cook every night, and that means always trying to stay creative with our meals so we don't get bored. One of our favorite go-to meals that the kids and I love is a roasted chicken.
With the holidays coming this is also a great way to cook for a large group where we have been testing out the options from Joyce Farms, a family-owned company where you can discover organic gourmet all-natural chicken and grass-fed beef.
For this recipe, I made a roast with the Poulet Rouge Fermier heritage breed chicken, a breed that is considered to be the best tasting chicken in the world. A simple way to create a delicious dinner, I also added in some potatoes, carrots, and sweet potatoes that was seasoned with parsley, onion, and lemon for a delicious way to enjoy our precious family time.
Roasted Heritage Chicken Ingredients
4 large cloves garlic
2 sprigs parsley
1 container vegetable stock
2tsp salt
1tsp freshly ground black pepper
1 onion
1/2 lemon
13 1/2 lb to 4 lb Joyce Farms Poulet Rouge Chicken
3-4 carrots, cut up
10 small red potatoes, cut up
2 sweet potatoes, cut up
Roasted Heritage Chicken Instructions
Preheat oven to 350°F.
Remove the chicken from its packaging, and lightly rinse with cold water. Pat dry with a paper towel.
Slide your fingers between the skin and the breast meat to create a pocket on both lobes of the breast. Stuff this space with as the onion and lemon.
Pour in the vegetable stock and cut up the carrots, sweet potatoes and potatoes and place them in the stock next to the chicken.
Sprinkle with salt, pepper and parsley.
Roast in the oven until minimum internal temperature reaches 165°F, measured in the thickest part of the thigh using a probe thermometer.
MORE FOOD IDEAS FROM MOMTRENDS
PIN IT!
Be sure to to follow our Recipes to Inspire board here.
Momtrends was not paid for this post. We were given samples for review.