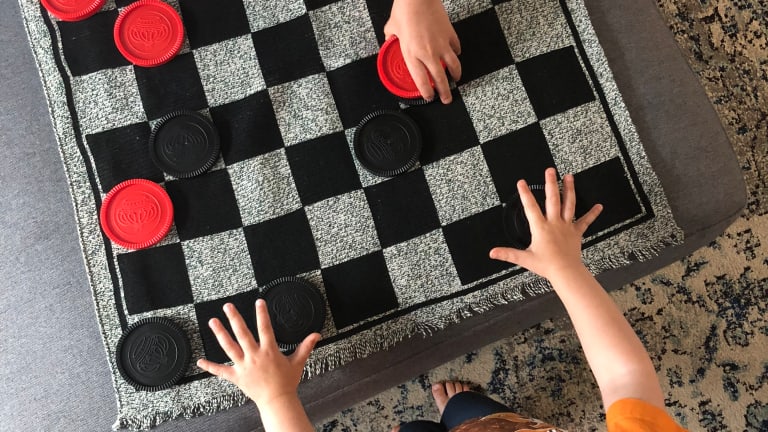 Winning! 5 Old-School (Tech-Free) Games Your Kids Will Love
Nostalgic Fun for the Family
I'll admit that my kids spend more time than I'd like on various devices. The phone, the iPad, the laptop, and multiple televisions provide them with ample screen time--to say the least. 
The fact is: as a working mama, sometimes I need to "plug" my kids in so that I can plug away at my to-do list. And, well, electronics keep them easily entertained--especially on a rainy summer day when our outdoor only(!!!) camp has been canceled. 
Of course, after an hour or two tuned in and zoned out they become veritable zombies, and it's on to the next preferably more stimulating activity. I try to shake things up so that they stay busy and engaged and I can get stuff done. Coloring and activity books and blocks and Legos are on regular rotation as well as other flashy toys (which usually involve a lot of parental involvement), but lately I've found my kids are getting the most value out of a few good old-fashioned games. These finds take me back to my childhood with a hearty dose of nostalgia and a lot of feel-good innocent fun. Best of all, they're activities that one or two LITTLE kids can usually do on their own--freeing Mama up to get to work.
I love this slightly oversized checkers rug. I can throw it down on the floor and the kids will play a game together. I like that the game of checkers involves strategy and thought; they focus and use their brains--which is a win for everybody regardless of who gets a check mate!
The opposite side of the checkers rug is tic-tac-toe and super tic-tac-toe! My kids absolutely love playing against each other; and I'll admit that even I enjoy a mindless game of T-T-T.
I recently introduced my son to jacks and he's hooked. He hasn't quite gotten the hang of the toss and catch yet--beyond one at a time, but he will spend an hour trying! Solo play that keeps him engaged--sounds good to me!
I think this is the first game I ever bought for my son. The concept is easy to grasp for young kids, but there is a level of strategic planning that makes it fun and challenging as they get older.
I bought this ring toss set for an outdoor birthday party, and we haven't stopped playing it since. We've even taken it inside a few times on rainy days!
This is not a sponsored post. It contains affiliate links.