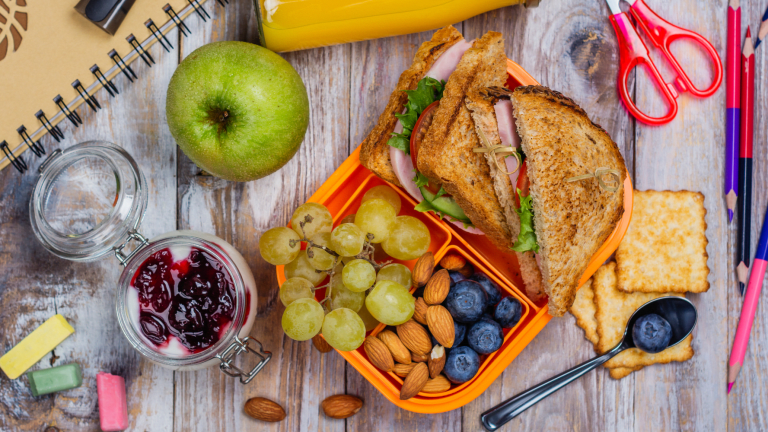 Publish date:
Nutritionist-Approved Lunchbox Essentials
As summer winds down and back to school season approaches, parents are gearing up for the challenges that come with packing a lunch for their kids that's nutritious, easy, and of course, fun! I can attest that slinging lunches at 6 AM is my least favorite part of the morning hustle. I've got picky eaters, and making options that they'll actually eat is a challenge to say the least. And I know I'm not the only mama who feels this pain point. That's why we tapped nutritionist Tracy Lockwood Beckerman, MS, RD, CDN, to share how you can make healthy midday meals for your kiddos.
Sampling of School-Lunch Essentials:
Vegetables: It's an old-age problem: kids not eating vegetables. Since children love to play with their food, try cutting up veggies into dipping strips and invite them to try different dips, from hummus and tahini to ranch dressing and guacamole.

Fruits: An apple a day keeps the doctor away, so try to include a serving of fruit for vitamins, minerals and antioxidants that growing bodies need.

Protein: Mix it up with a plant-based protein, like Banza's new Alphabet Pasta. Ideal for a quick, nutritious lunch, with nearly double the protein, three times the fiber and 30% fewer net carbs than traditional pasta, Banza's new alphabet shapes are sure to be a hit with your little ones!

Healthy Snacks: While these shouldn't be the main item in your kid's lunchbox, it's ok to pack healthy, whole grain snacks, like air-popped popcorn or treats with natural sugars, like fruit strips or yogurt. 
More from Momtrends

Five Tips To For a Girl's First Leg Shave
Do you remember your first time shaving? Mine wasn't pretty. I snuck my dad's razor and shaved my legs dry. It wasn't pretty. Get your daughter ready for this rite of passage with the right tools and a quick education. We've got five tips to help you navigate your daughter's ...read more
Why You Should Add Wild Blueberries to Your Diet
Do your New Year's goals involve healthier eating? Adding more fruits and vegetables to your diet? Or even adding tasty new recipes to your repertoire? We've got five reasons for you to add wild blueberries to your diet. Our friends from the Wild Blueberry Association have ...read more
Why Moms are Loving This Blueberry Couscous Salad
It's blueberry picking time. And while most blueberry recipes revolve around baked goods, we've got something different to share. First, a few sentences singing the praises of this lovely fruit. Blueberries are high in antioxidants, improve memory function and reduce the effects ...read more
1. 3 Twists on Your Typical Lunchbox Sandwich
2. How to Pack a "Cool" School Lunch
3. Power Your Lunchbox Promise
This is not a sponsored post. Tips facilitated by Banza.