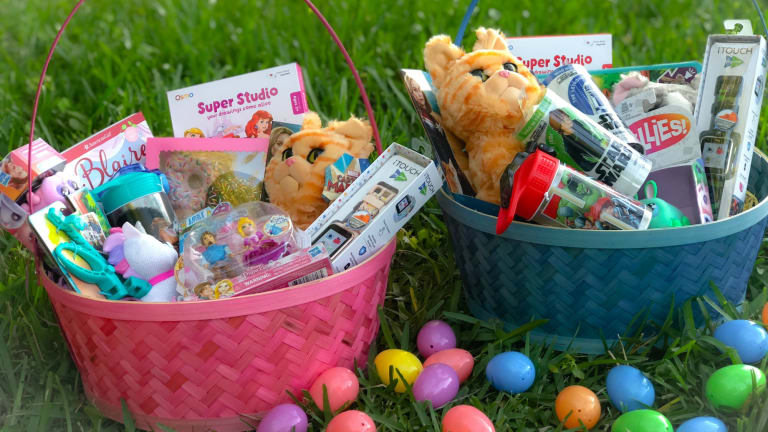 Non-Candy Easter Basket Fillers and Surprises
If you want to cut down on the sugar this Easter, give your kids some non-candy Easter basket fillers and surprises. We have a slew of fun Easter basket ideas!
Growing up, the Easter Bunny left us two baskets, one filled with candy and one filled with some special surprises. Now that I'm the mama, I understand why the candy basket we received was substantially smaller. Bwah! My kiddos have enough energy without a sugar rush. So, while the Easter Bunny will bring them a few tasty treats, he's concentrating more on the non-candy Easter basket fillers and surprises this year. Luckily, it wasn't too hard to find some goodies that fit their current interests! You know princesses, superheroes and the like.
And since I'm guessing I'm probably not the only Mom who's been feeling this way about all that sugar, I thought I would share some fun non-candy Easter basket filler ideas with you. They should would work for kids from age 4 all the way to tween town. There's still plenty of time to get some last minute shopping done before the big day after all! So, whether you want to fill a basket with some smaller surprises or gift your kiddos with one larger surprise, we've got you covered!
Easter Surprises for Kids of All Ages
Let's talk about the fellas first. My son has been all about the Avengers since he could barely walk and Star Wars has been an obsession the past few years, but he also has a softer side. So, I decided to fill his basket with some of his favorite action characters and some furry friends as well. Because as much as he loves superheroes, he loves animals even more. In this Easter basket for boys you'll find:
Furry Friends:
Captain Marvel Goose the Cat - My little dude and I both share a love for Marvel anything and Captain Marvel just might be one of our very favorite movies yet. Goose the Cat was a big part of the reason we loved the film so much. Now apart from being cute and cuddly, this kitty performs a very special trick. I won't share just what exactly that special trick is because it would spoil the movie if you haven't seen it yet, but just know that it is super COOL!
furReal Walkalots Big Wags - Our dog is 50 pounds and very strong, so the kids can't walk her on their own. And our cats certainly aren't letting a leash come near them any time soon. So, this darling toy is about as close as my kiddo is going to get to walking a pet. But that's ok. It's the next best thing to the real thing thanks to the realistic sounds and bouncy walk!
Star Wars:
Star Wars Mini Comic Figures - After the first new Stars Wars movie came out, my son was hooked. He even finally agreed to watch the "old" ones despite them, in his mind, not having special effects that were up to his standards. Haha! And he's anxiously awaited each new Star Wars movie's release ever since. So, these little figures are sure to be a hit with him as they would be with any Star Wars fan!
*And I included a couple tech treats that I also put in the girl's basket, so keep on reading to find out more about the smartwatch and studio you might have spied in the basket!
Next up, there's my daughter. She's a sucker for princess anything, along with furry friends like her big bro, and anything she can unbox. Oh the unboxing generation. You gotta love them. Who am I kidding? I love unboxing my Stitch Fix box as much as they love their blind boxes. Bwah! In this Easter basket for girls you'll find:
Princesses:
Disney Princess Royal Clips - My daughter has been playing with various versions of these little Hasbro dolls that come with outfits that clip on for ages, I mean AGES. And they just keep getting cuter. I'm sure Rapunzel will be switching dresses with Snow White tout de suite. *Parenting tip - I often keep a few of these in my purse. You never know when you're going to need to entertain a whiny first grader. Haha!
Osmo Super Studio - I'm not opposed to screen time as long as my kiddos mix in the non screen play. In fact, I shared some positive ways to play with screens the other day. And the Super Studio would fit in perfectly with that. With this gadget's interactive games, kids can hone skills like creativity, problem solving, coding, spatial awareness and more while their favorite characters, like The Incredibles, come along for the ride! They will be amazed to see the scenes they draw come to life on their tablet screen!
Moana Stainless Steel Water Bottle - Nothing keeps water colder than these Zak stainless steel water bottles. Much like my large and in charge collection of coffee mus, we have way too many water bottles, but every single one gets used. It never hurts to have extras on hand for when your kids inevitably leave their water bottle at school or dance class for instance. My daughter does one of those pretty much every week. Bwah! And my son isn't much better, so he got an Avengers water bottle in his basket.
Creative Play for the Easter Basket:
Play Food Donuts - I love having toys that require imagination on hand for my kids. Because as much as I want them to focus on the skills STEM subjects require, I don't want to neglect the creative parts of their brains. Play food always leads to endless imaginative play for my daughter. Whether she's serving it up at her pretend restaurant or throwing a picnic for her dolls, she's never bored when there's play food around. And these Antsy Pants donuts couldn't be any cuter!
iTouch PlayZoom Smartwatch for Kids - Speaking of creativity, this smartwatch not only comes with features like games, an alarm, timer and calendar, but it also offers up a camera, photo effects, video, recorder and more! So, if you have a budding performer on your hands like I do, she can record away to her heart's content. AND it can track their daily activity too. My daughter LOVES being active, so she'll eat this up! And her brother will do the same. Did I mention how cute the prints are? Cats, camo and so many more!
Cute Critters for the Easter Basket:
furReal Walkalot Lil' Wags - Unicorns are hot hot hot right now, not that they weren't ever not hot in our house. This darling walkable unicorn is sure to get loads of play time. And the best part about these cuties is they can be connected to each other or even to the Big Wags so your little one can walk a whole pack of critters at one time. I see a whole lotta Walkalots play dates in our very near future!
Yellies - You may remember when we gave away some of these adorable toys last year, well they're back in bunny form. My kids and their cousin absolutely love getting together with their Yellies to see who can make them move the most. So, you know that bunny Yellies are going to be more than welcome at the party!
Lost Kitties Surprise Egg - Unboxing has never been cuter. You never know which fabulous feline of the 12 available awaits you, but you do know it's going to be adorable! This is the type of toy my daughter will spend hours making pretend videos with. Wait, they don't have to be pretend if she has a smartwatch with a camera!
American Girl for Easter
Now if you'd rather avoid the tinier toys, you could give your little lady a super special Easter surprise like Blaire Wilson, the American Girl Doll of the Year. She was simply made for spring and summer fun. As a budding event planner, Blaire is all about festive soirees like a good garden party. She even has her own garden. And every gardener needs an outfit fit to garden in. What's more perfect for that than overalls and wellies?! Blaire and any of her accessories would surely make your little girl's Easter day! And the way she helps out at her family's farm and restaurant is such a good message for youngsters. It's never too early to teach them about a solid work ethic!
And if you have a tiny fashionista at home, she'll surely love the these Pokemon X Geox shoes. My daughter has barely taken hers off. Not only is she fully fascinated by the upcoming Pokemon movie, but she's yet to meet a pink or purple shoe she didn't like. Thanks to the super cute and comfy Pikachu design, they work with her dresses and athleisure alike. They even have light up soles with an on/off switch. I've been waiting for light up kids' shoes with on/off switches f-o-r-e-v-e-r. Who's with me? They would make for a such a fun Easter basket filler too!
MORE EASTER IDEAS FROM MOMTRENDS
PIN IT!
Use Pinterest to save your favorite entertaining ideas. Be sure to follow our East Pinterest board here.
We were not paid for this post. Some samples were provided and some were purchased by me.