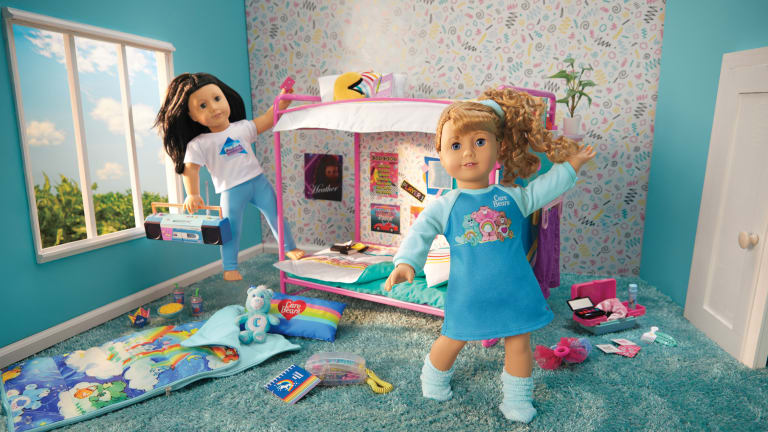 Newest Doll Launch from American Girl
American Girl launches Courtney Moore a historical doll from the the 1980's
Are you a child of the 80's? I sure was and while I think some of the fashions were questionable, it was a colorful and awesome time to be a girl. To celebrate all things "totally awesome" American Girl has their first new historical doll in three years. The newest doll launch from American Girl is Courtney Moore. She is a total '80s girl whose big, bright and bold ideas inspire today's girls to find their inner hero to accomplish great things.
Related: How to give back and get creative with chalk art
American Girl launches Courtney Moore
To learn more about Courtney, girls are encouraged to pick up the two-book series by Kellen Hertz. In the books, we get to know Courtney, an avid gamer growing up with her blended family in the fictional town of Orange Valley, CA. ). Courtney books ($7.99 each) can be purchased through retail and online booksellers.
Courtney loves going to the mall, especially the arcade, where she's one of the top-scoring PAC-MAN players. But Courtney doesn't only play video games, she'd like to create them and bring more girl characters to the forefront. When given a chance to create her own video game, Courtney looks to real-life heroes—like her mom, who's running for mayor, as well as the astronauts on the Space Shuttle Challenger—as inspiration to invent a female superhero who's bold, brave, and gives Courtney the courage to speak up for the people and ideas she believes in.
The Courtney Moore Doll
The 18-inch doll has curly sandy-blonde hair that can be worn in a high side pony, plus accessories like a pretend cassette player and tape, colorful bangle bracelets, and pretend Lip Smacker lip balm. Spot on for the 80's!
The Courtney doll (retails for $110) arrives wearing a high-waisted denim skirt, a bright blue off the shoulder crop top, plus white faux-leather slouchy boots. Girls can add tons of new looks with Courtney's 13-piece mix-and-match '80s fashion collection and spend hours playing with Courtney's Bedroom Set with over 25 pieces—including a hot pink bunk bed, two rainbow comforters and pillows, and a see-through phone that lights up and rings.
Courtney's world also includes several licensed products of '80s classics—including Courtney's Caboodlesand Hair Accessories Kit with a real mini Caboodle, plus Courtney's Care Bears Pajamas for both girls and dolls and Courtney's Care Bears Sleeping Bag Set. 
For the gamer in all of us, fans can level up with Courtney's doll-sized PAC-MAN Arcade Game that plays like the real thing with multiple levels. And finally, for all those original American Girl fans out there, Courtney comes with her very own mini American Girl Molly doll—one of the first three historical characters to launch in 1986 by then newly-founded Pleasant Company.
Helping Girls Learn and Grow through Play
And to further our mission to help build girls of strong character and confidence, we're partnering with Girls Who Code to help change the game when it comes to influencing female leadership in the fields of computer science and technology.
"Girls are constantly online, using apps, playing games and more, that's why it's so important that they also see themselves on the other side of those products, actually building them," says Reshma Saujani, CEO of Girls Who Code. "It's our goal to show girls the power of learning this skill set so that they can code the future they want to live in and, ultimately, change the world."
From now through December 31, 2020, American Girl is matching customer donations dollar for dollar up to a maximum of $50,000 to support the organization's programming and outreach to girls, including those from historically underrepresented minority groups. In addition, American Girl is providing a $5,000 scholarship to four deserving Girls Who Code members to help further their education in computer science or a related field. To learn more about how American Girl is helping Girls Who Code, visit americangirl.com/gwc.
Bringing Courtney Home
The Courtney collection is available September 15, 2020, at americangirl.com, and starting September 25, 2020, at all American Girl retail locations nationwide. Courtney products will be available on October 1, 2020, at American Girl specialty boutiques at select Indigo and Chapters locations in Canada and online at Indigo.ca. 
Win it!
We're teaming up with American Girl to give away a Courtney Doll. Use the Rafflecopter form below to enter.
MORE TRENDS FOR GIRLS FROM MOMTRENDS
PIN IT!
Use Pinterest to save your favorite ideas from Momtrends. Be sure to follow our Crafts and DIY board here.
Momtrends was not paid for this post.