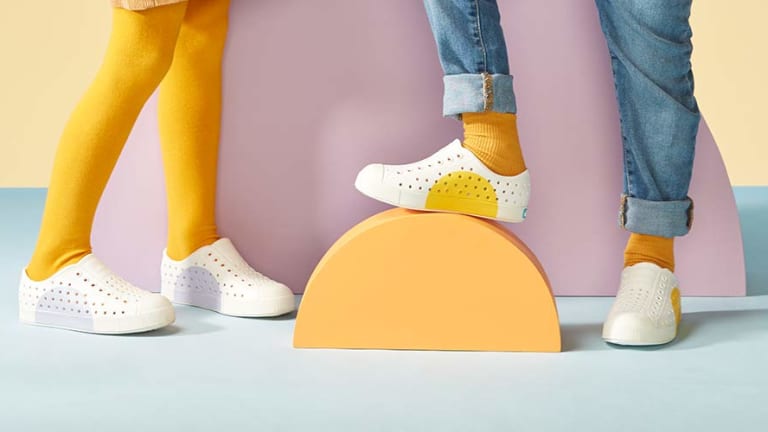 Native Shoes Perfect Summer Footwear for the Family
These kids' shoes are ideal for spray parks and boardwalks, and are sneaker-like enough for playground climbing and running around.
My kids recently got what I think might just be the perfect summer footwear: Native Shoes. These shoes are ideal for spray parks and boardwalks, and are sneaker-like enough for playground climbing and running around. They're also extremely light, which is important if you're the one carrying them in backpacks and suitcases for summer traveling.
Related: Create a cozy reading nook for kids
Native Styles
Native Shoes boasts great styles for kids, all of which are slip-on, waterproof, washable, odor resistant, and made with animal free fabrics and materials. They are crafted in comfortable lightweight EVA. For best sizing and color assortment, shop the Native page on Zappos (plus free delivery & returns).
Colors are fun and vibrant, and include Hollywood Pink, Regatta Blue and Torch Red. Expect to pay about $40 for a pair for the kiddos. 
Momtrends Tip: Did you know that these EVA shoes can be hand-washed using mild soap and baking soda? 
Perfect Shoe for Summer Camp and Summer Adventure
If you're headed out to travel this summer, this would be a great shoe to pack. They are light and breathable and dry in a flash. Wash your Jefferson's (tips above) then, let them dry in a cool shaded area. Closed-toe shoes makes sense for summer safety--bikes, skateboards and playgrounds are a lot more fun when you keep toes covered. 
And if your kiddo is heading to sleepaway camp, this shoe will be the perfect pick. Now, it's time to pick your favorite style.
Our Pick The Jefferson Marbled
We pick the Jefferson as our favorite.  It's shock absorbent, odor resistant, hand-washable, and comes in an infinite assortment of colors and treatments. It's a school that can go to a nice dinner with the family or the playground and they are awesome for exploring outdoors. They are as light as a flipflop, but they safely cover the toes. This season we like the glossy color pop. 
Get the Jefferson Gloss here on Zappos
And if you find yourself wanting a pair for yourself? Don't worry, Native Shoes come in five adult styles, too.
A note on sizing: Native shoes are offered in whole sizes only, and tend to run big. If you are between sizes, the company recommends sizing down.
Native Remix Project
While we adore the style, comfort and price of Native shoes, we also 100% stand behind the mission of environmental responsibility. By 2023 Native Shoes wants to have 100% of their shoes life cycle managed. The Native Shoes Remix™ Project, recycles well-loved Native Shoes by giving them new life in projects across the community.
How does the Native Shoes Remix Project work?
The unique composition of Native Shoes can be reground into versatile material that is useful in the creation of seating, playground flooring, insulation and more. Leveraging a proprietary regrind process, we are able to break down the materials found in every style of Native Shoes including sandals, slip-ons, knit sneakers and boots. From that point – there's no telling where your soles could turn up!
Where can I recycle my Native Shoes?
Here's a how-to that's easy and FREE for you to send your old Native Shoes back to us to be recycled through the Native Shoes Remix™ Project with help from our shipping partners UPS (via Zappos for Good).
Login to (or create a new account with) our shipping partner website, Zappos for Good to print out a FREE return shipping label.
Fill out the applicable return label form.
Pack up the item(s) in a sealable bag or box. Attach return shipping label to the package.
Drop it off to your local UPS store, and you're all done!
MORE KID-CENTRIC STYLE PICKS FROM MOMTRENDS
PIN IT!
Need more ideas on fashion for kids? Use Pinterest to save your favorite fashion finds for you and your kids. Be sure to follow our Kids Fashion and Style Board here.