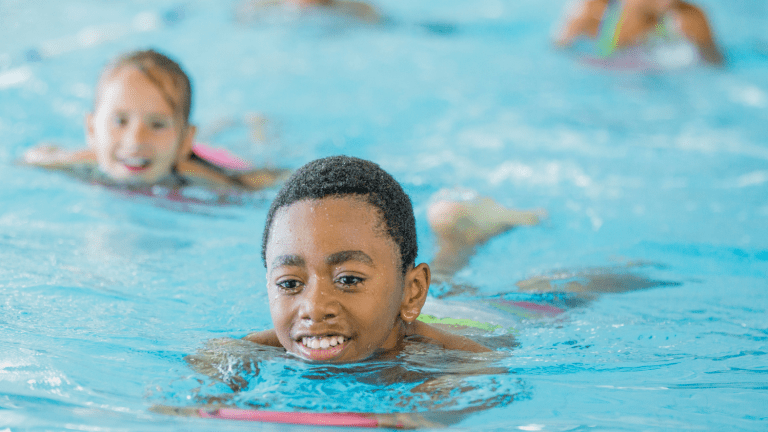 National Learn to Swim Day
National Learn to Swim Day on the third Saturday in May is dedicated to educating parents and children about water safety.
As temperatures nationwide begin to heat up and Memorial Day approaches, we are all so excited for long days at the beach, pool parties and fun trips to the lake. While we love this time of year, we also can't forget about swimming safety - especially since drowning is the second-leading cause of unintentional injury-related death for children ages one to 14, according to the American Red Cross.
Related: Important pool safety tips
To increase awareness about the importance of learning to swim, Swimways, a leading manufacturer of pool and outdoor recreational products, is encouraging communities and families nationwide to celebrate National Learn to Swim Day by educating themselves on swim safety. Check out some of their fun and educational ways to promote safe swimming.
12 Ways to Promote Safe Swimming in Your Family
Enroll your kids in swim lessons at a local YMCA, Boys & Girls Club or other local swim club.
Visit a community pool as a family and remember to pack a picnic.
Lifeguards are unsung heroes. Take a few minutes to tell your local lifeguard how much you appreciate them.
Host a group swimming lesson at a local pool.
Join a local summer swim league or go watch a swimming competition
Have a pool? Invite a few friends over for a synchronized swimming competition.
Encourage kids with downloadable rewards and swim progress charts.
Still too cold to swim outside? Grab a float and a swimsuit and practice some silly splashes in the bathtub.
Take a CPR or First Aid class.
Visit a local library and check out a book about famous Olympic swimmers.
Talk to your children about water safety.
Start your own Learn-to-Swim Celebration. Contact your local pool, waterpark or community center and help organize a fun event.
More Swimming Trends 
PIN IT!
Use Pinterest to save your summer fun and safety ideas. Be sure to follow our Swim-Team Moms board here.
Momtrends was not paid for this post.