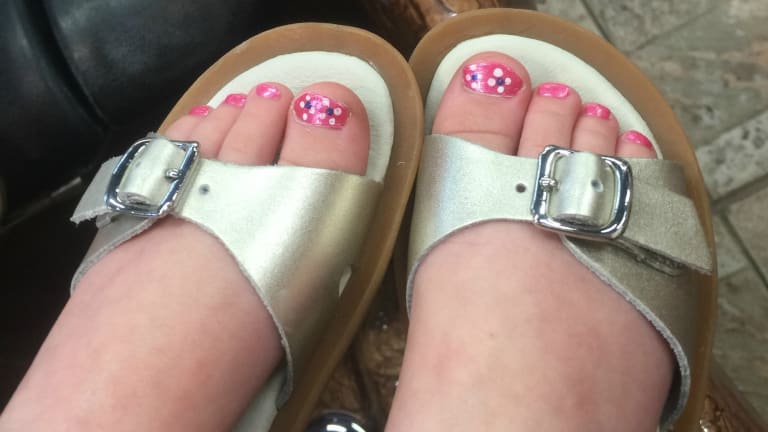 Must-Have Spring Sandals for Girls
Deck your kiddos out in the season's hottest sandal trends!
This post contains affiliate links.
It's time to start stocking up on some new sandals for your kiddos' spring and summer wardrobes. My daughter is just like her mama and, each year, can't wait for winter to be over so she can start rockin' shoes that show her tootsies again. Haha! I just feel more comfortable in sandals than boots and so does she. It must be the Floridians in us, but I digress...Let's talk about the must-have spring sandals for girls that I rounded up!
Related: Kidpik spring subscription kids clothing delivered to your door
Must-Have Spring Sandals for Girls
Who's on the lookout for must-have spring sandals for girls?! If you aren't yet, you should be! It's that time of year again. It's sandals season! Even if the temps aren't balmy in your neck of the woods, they will be soon enough. 
Seriously Cute Spring Sandals For Girls
Now, when it comes to shopping for spring sandals for girls, I typically look for the same shoe trends that I'm loving. My baby girl already wants to try on my shoes, so why not choose spring sandals for her that are inspired by my own purchases? The being said, I usually have to pick up more for her than I do for myself thanks to that whole kids grow every minute thing. Bwah! Luckily, there is no shortage of super cute, must-have spring sandals for girls out there. In fact I found a slew of them that I just had to share in some of my go-to spring and summer trends. I'm talking gladiators, metallics, t-straps and more! I only wish some of them came in my size. At least the Birks do. I mean does it get any cuter than mommy-and-me Birkenstocks? Just sayin'.
Shop Neutral Sandals for Kids
gladiator sandals / tassel sandals / metallic sandals /Jack Rogers sandals / floral sandals / rose gold sandals
Shop Pink Sandals for Kids
embossed sandals / flip flops / slide sandals / Birkenstock sandals /t-strap sandals / multi-colored sandals
Now that you've seen my take on the must have spring sandals for girls, check out our tips for dressing for the beach. We can always use a little more spring style inspiration this time of year right?!
MORE KID-CENTRIC STYLE PICKS FROM MOMTRENDS
PIN IT!
Need more ideas on fashion for kids? Use Pinterest to save your favorite fashion finds for you and your kids. Be sure to follow our Kids Fashion and Style Board here.
This is not a sponsored post.