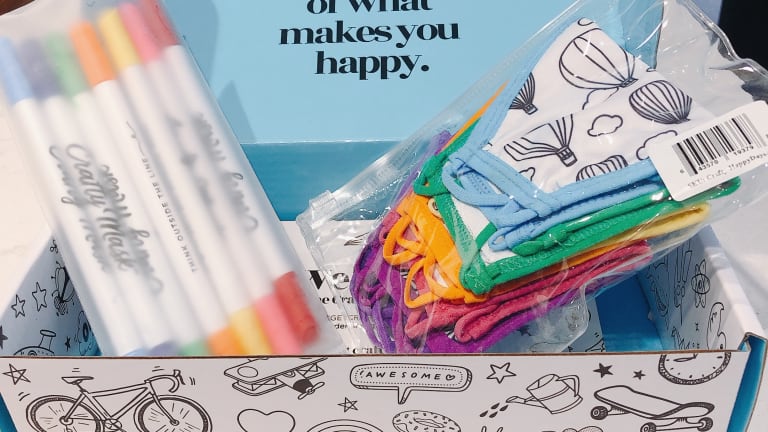 Mom Hack for Getting Your Kids to Wear Masks
We love these colorable masks from Crafty Mask™ that offer safety and fun for your family.
I've got a mom hack for getting kids to wear masks, it's as simple as letting them customize them. The Crafty Mask™ is a mini art project that will give your child the ability to turn something they might find inconvenient into something F-U-N!
Discount code: "MOMTRENDS" for 15% off Crafty Mask™
Tips Getting Your Kids to Wear Masks
During these times of social distance, it's important to stock up on masks and make the kids want to wear them. We label our masks and have a bin for clean and dirty masks by the door. 
I've found the best way to get my kids to wear masks is to have loads of them available in colorful cute prints. That's where Crafty Mask™ can really help.
Crafty Mask™️ is a mask and non-toxic marker collection that transforms wearing masks into an interactive activity by sparking kids' imaginations and encouraging them to have fun. And when they are having fun, we become more at ease. The Crafty Mask™️ lets kids express themselves by making their masks their own - over and over again. These are masks kids love to wear, protecting themselves and others while harnessing their creativity daily.
Why we pick Crafty Mask™
Crafty Mask™ come in two sizes and are designed to keep your kids safe. The masks are designed with double layer protection. They have a 100% cotton inner layer, a wire nose clip, and adjustable earloops. The masks are available for toddlers 3-5 and children 6-11.
Pick from two collections: Adventure Time and Happy Days. Theses cheerful backgrounds are ready for your child to customize. Each collection comes with 7 masks and 7 markers.
The included non-toxic markers, have no odor and give color that is made to last over 30 machine washes. Simply toss in the washing machine after each use so kids can have a fresh canvas to create on. Crafty Mask's™️ engineered durability offers premium protection.
Get your Crafty Mask™ here and use discount code: "MOMTRENDS" to save 15% 
Giveaway 
Winner will get one Crafty Mask™ of each theme in your choice of size.
This is a sponsored post.