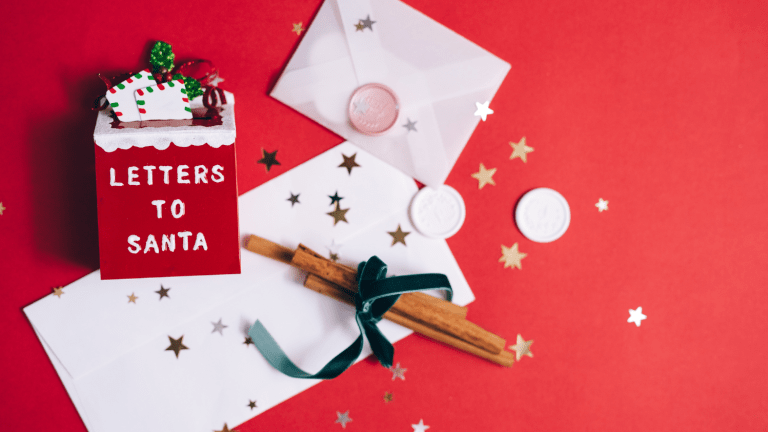 4 Fun Ways to Contact Santa
Get your kids into the holiday spirit with these fun interactive ideas.
He's making his list and checking it twice... And the kiddos are scrambling to express-mail their wish-list letters to the North Pole stat. But, in the digital era, there's an app for that--and there are multiple ways to reach Jolly Old Saint Nick. From traditional snail-mail to texting to email to phone calls, here are our five favorite ways to track (and contact) Santa Claus this year. 
Related: Tips for writing letters to Santa
Letters to Santa
The traditional way to communicate with Santa is to write him a letter. We are loving the sweet letters from Minted. The letters include a fill-in option where your kids can write in their name, indicate if there were naughty or nice, and of course, request what they want this year.
Track Santa
In late November, Google once again launched an interactive Santa's Village leading up to their annual Santa Tracker on Christmas Eve. Each day throughout December, new games and scenes became available to play. On December 24th, millions of kids and adults watched Santa's reindeers guide him across the globe as he delivered presents with Google's Santa Tracker.
Calls to Santa
Vonage will once again enable customers to dial 1-700-CALL-SANTA (1-700-225-5726) from a Vonage home phone or the Vonage Extensions App to hear a message from Kris Kringle himself. Now through Christmas Eve, by dialing this number, customers can connect directly to a holiday greeting from Santa and kids will have the opportunity to leave a message about what they'd like to see under the tree. Taking the guessing game out of gift giving, Vonage will send the recorded message to Vonage account holders via email so they will know exactly what their loved ones wished for this year. The audio attachment can be forwarded to other family members and friends, or even set aside as a keepsake. And you can still call Santa even if you are not a Vonage customer. Simply visit www.vonage.com/northpole and follow the instructions.
On Christmas Eve, callers will be able to track Santa's whereabouts as he delivers presents around the world. Starting at 5 p.m. ET on December 24, Vonage customers can dial 1-700-CALL-SANTA to hear where Santa and his reindeer have been and where they are headed next!
This Christmas, Avaya Holdings Corp. (NYSE: AVYA) will once again provide its industry-leading contact center solutions to help track Santa Claus' journey around the world as he spreads holiday cheer.
Avaya's contact center solutions handle millions of customer calls, web chats, and texts around the world each day, serving the largest banks, health systems, airlines and government agencies. This Christmas, Avaya will be sharing its customer engagement technology to support the North American Aerospace Defense Command (NORAD) Operations Center at Peterson Air Force Base in Colorado Springs, Colorado so that children around the globe can monitor Santa's progress and double check his safety during his travels.
The 64 annual NORAD Tracks Santa, will begin December 24 through Christmas Day, December 25 and will provide real-time updates on Santa's progress as he soars through the sky in his sleigh with his trusty reindeer companions. With thousands of volunteers staffing the NORAD hotline, tens of thousands of calls from children of all ages will be answered as Santa is successfully tracked.
Track Santa on NORAD
As kids across the country await Santa's arrival, OnStar wants to help keep families on the road stay aware of his whereabouts through a fun tracking system.
On Christmas Eve, OnStar will provide specific location-based updates on Santa Claus' annual trek around the world based on data received in partnership with the North American Aerospace Defense Command (NORAD).
Beginning at 7 a.m. EST on Christmas Eve, OnStar subscribers, including OnStar FMV owners, can press the blue OnStar button in their vehicles to request a "Santa Update" through 5 a.m. EST Christmas morning.
NORAD uses its North Warning Radar System, geo-synchronous satellites with infrared sensors and other technologies to monitor Santa's Christmas Eve travels and share the information with children and families around the world.
Those traveling will find this is a fun and interactive way to keep the kids entertained while on the road.
Individuals without an OnStar subscription can visit www.noradsanta.org or
dial 877 HI-NORAD (877-446-6723) for Santa's location.
MORE HOLIDAYS FROM MOMTRENDS
PIN IT!
Use Pinterest to save your favorite gift ideas. Be sure to follow our Holiday Recipes and Crafts board here.
Momtrends was not paid for this post.