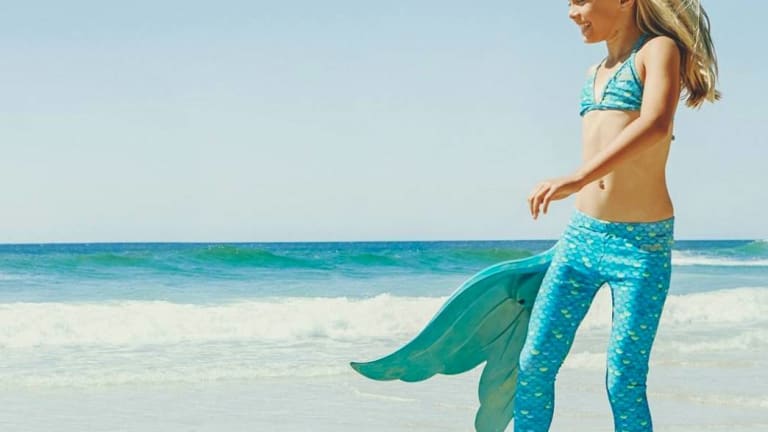 Mermaid Fashions with Mahina MerFins
MerFins build water skills and confidence, inspire children's imaginations.
We just discovered something truly unique for girls and aspiring Ariels alike with a collection of imaginative beachwear from Mahina Mermaid, a company from Australia that makes eco-friendly MerFins. These fins are made for swimming and creative play.
Related: How to make a mermaid tail
We spoke with the Founder about her dream to create the brand, "Mermaiding" is a great way for girls to enjoy instant fun and cute fashions as they morph from legs to fins. Founder Mahina Mermaid stated, "Mermaiding also promotes the love of the sea and her creatures. My dream of being a mermaid became a reality, it then became my dream to see every little girl's dream come true. It is my hope that the MerFins will inspire children to make beautiful waves with their MerFins and their hearts and be an example that anything your heart believes in can come true."
Junior MerFins
Junior MerFins are for ages 6yrs and up. They are perfect for the pool, or any natural gentle water environment. MerFins build water skills and confidence, inspire children's imaginations, and also get them outside in nature for healthy outdoor and water play. Junior MerFins allow your Lil' or tween mermaids to play and explore their mermaiding in safety.
The MerFin Package, which includes MerFins, swim tights and bikini, is priced from $89 (for just the fin) - $189.00 (for swimwear and fin). Some of our favorites are the the Mer Fin and the complete MerFin package with MerLegs, MerFin's and the MerBabe Bikini that come in a cool and calming blue and turquoise that will take you to the sea in style.
Visit www.mahinamermaid.com to shop
MORE KID-CENTRIC FUN FROM MOMTRENDS
PIN IT!
Need more ideas on what to do with the kids? Be sure to follow our Activities to Do with the Kids board on Pinterest here.
Momtrends was not paid for this post.