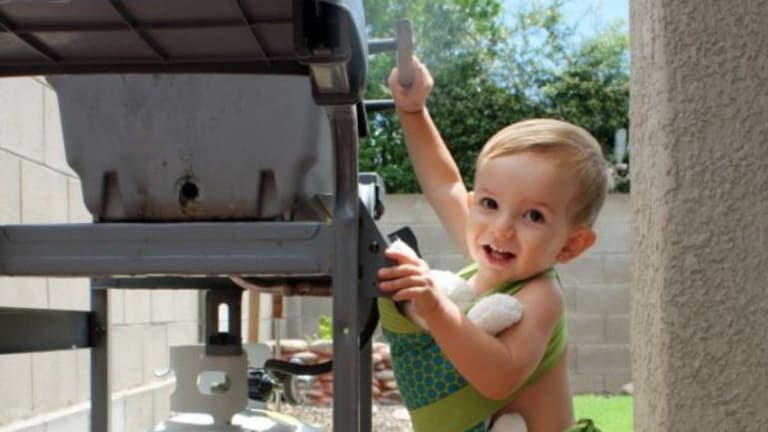 Mei Tai Doll Carrier Sewing Tutorial
Sew this adorable doll carrier. Your child will love wearing dolls and stuffed animals and it fits most toddlers and young children.
Ahh, nap time. I love it. Ben, Papa, and the dogs all napped for three hours today, and I took advantage of the quiet house and got crafty. A friend and I were recently discussing how much we love our mei tai baby carriers (seriously, awesome) and how cute it would be for our little ones to have kid-size mei tais for their dolls. I searched and searched for a good mei tai doll carrier sewing tutorial on the web and didn't come up with much of anything, so I decided to write one myself. 
Related: Ten best sewing kits for children
I'm always amazed at how much Ben mimics my actions, right down to patting and kissing his little gorilla just like I do to him when he's the one in the carrier. Learning to be gentle, kind, and compassionate are skills that all little girls and boys should learn at an early age, and what better way than by letting them love on their own little baby doll (or gorilla!). Just like a real baby, stuffed animals and dolls can be worn "close enough to kiss".
Without further ado, here's the tutorial. Happy sewing!
Mei Tai Doll Carrier Tutorial
This doll carrier is intended for dolls and stuffed animals. It will fit most toddlers and young children (up to ~28 inch waist/chest circumference). The carrier can be worn on the child's front or back. Instructions on how to wear a mei tai can be found here. All seam allowances are 1/2 inch unless otherwise stated. If you're a beginner sewer, just take it one step at a time and leave a comment below if something doesn't make sense.
I chose to use four different coordinating fabrics; you can use one fabric for the whole carrier or mix it up like I did. I used Riley Blake and Robert Kaufman quilting-weight cotton fabric for the body pieces and generic quilting fabric for the straps and headrest. Decorator-weight or flannel fabric may also be used. The carrier is reversible, so keep that in mind when choosing your "inner" body fabric.
Please do not attempt to make a weight-bearing mei tai by enlarging this pattern as it would need extra reinforcements that I have not included in the design of this doll carrier. This tutorial and pattern may be used for personal use only. Please do not sell doll carriers using this pattern. Share it with your friends by linking back to this post.
Mei Tai Doll Carrier Supplies
Fabric A (Outer body): fat quarter or 1/2 yard
Fabric B (Inner body): fat quarter or 1/2 yard
Fabric C (Straps): 1/2 yard
Fabric D (Headrest): 9" x6" scrap of fabric or fat quarter
Headrest Padding: 3" x 7" scrap of fleece or batting
Sewing machine, coordinating thread, fabric marker/pencil, chopstick, iron, ruler, sharp scissors, rotary cutter and mat (optional), and loop turner (optional)
Printed pattern sheet: Click on the orange "download" button. Set your printer to "scale: none" and auto-rotate. Measure the 1" square box to make sure it printed to scale. 
Step 1: Cut Pattern Pieces
Prewash, dry, and iron your fabric. Prewashing and drying allows the fabric to shrink, which is something you do not want to happen after you have finished your project (think puckers and weird pulls in the fabric).
Cut the pattern pieces out of your fabric. You can use a rotary cutter like I did, or simply use a fabric marker and sharp scissors. Don't use a standard marker, or you may find the ink bleeds through the fabric and doesn't wash out. You will need the following pieces:
Fabric A: cut a 10.5 x 10.5 inch square
Fabric B: cut a 10.5 x 10.5 inch square
Fabric C: cut three 4.5 inch strips from selvage edge to selvage edge. If your fabric is wider than the standard 44", you can either cut your fabric to size or have longer straps.
Fabric D: trace the pattern piece onto your folded fabric and cut out
Headrest padding: trace the pattern piece onto your batting or fleece and cut out
Step 2: Shoulder Straps
Fold one long strip lengthwise with right sides facing. Sew along the entire long end, using a 1/2 inch seam allowance. Remember to backstitch at each end. (The printed side of the fabric is the "right" side. Solid color fabrics may or may not have a "right" side.)
Measure 3 1/2 inches from the end of the fabric on one side, and mark with your fabric marker. Measure 3/4 inches from the end on the other side, and mark. Use a ruler to draw a line between the two marks. Stitch across the line, right off the edge of the fabric, remembering to backstitch at each end.
Cut the extra fabric off 1/2 inch from your seam.
Use a loop turner or chopstick to turn the fabric right side out. Use a chopstick to gently push the tip of the strap out fully. Press the seam flat. Topstitch around the entire strap. Don't stitch super close to the edge or you'll run into trouble with your fabric catching when you pivot around the pointy end of the strap.
You just finished a shoulder strap! Make a second one, then move onto Step 3.
Step 3: Body Pieces
Lay your two body pieces right side down on your ironing board. If your fabric has a directional pattern, make sure you are working with the corners you want at the top of the mei tai. Measure and mark 2 inches in from each top corner. You should make a total of four marks per body piece.
Fold the corner in (wrong sides together), using the marks you made as a guideline. Press the corner flat. Repeat for the other top corners.
Step 4: Headrest
Fold the headrest piece in half with right sides together. It should look exactly like the pattern piece you cut out. Make sure the edges are lined up, and sew along each angled side using a 1/2 inch seam allowance. Be sure to backstitch at each end.
Flip the headrest inside out, using a chopstick to push the corners out. Press flat.
Insert your headrest padding (I used fleece) into the headrest. Make sure it is pushed all the way into the corners and that there aren't any puckers in the padding. If the padding seems too large to fit properly, cut a tiny sliver off one side and reinsert. Using a coordinating thread, line your sewing machine's walking foot up with the top edge of the headrest. Sew straight along from end to end, and be sure to backstitch at each end.
Line the edge of the walking foot up with the seam you just made, and stitch from end to end, remembering to backstitch at each end. Repeat until the headrest is covered in rows of stitching. You should end up with seven rows, but it's not a big deal if you have more or less.
 Step 5: Assembly
Lay one of your body pieces right side up on a flat surface. Place each shoulder strap on the folded corner piece of the body fabric. The flat end of the strap should be centered on the body corner and the pointy end of the strap should be facing in towards the body. Let the strap ends hang over the body fabric if you have white selvages like me. If you have patterned selvages, you can line the straps up directly against the body corners. Pin in place.
Line the wide end of the headrest up against the top edge of the body piece. The small end of the headrest should be facing down. (It doesn't seem right, but trust me.) The headrest should fit between the two corners of the body fabric with room to spare for the seam allowance. Pin into place. Using a 1/4 inch seam allowance, stitch the straps and headrest onto the body fabric. Stitch over each piece several times for reinforcement. Trim your strap selvage ends, if necessary.
Lay the assembled body piece right side up on your flat working surface again. Guide the long straps toward the center of the body and down the bottom (or roll them and keep them securely in the middle of the body piece). This will ensure the straps aren't accidentally stitched into your next seam. Place the second body piece right side down, directly on top of your assembled body piece (right sides facing). Line up the edges and pin into place. Mark a 5 inch opening guideline on the bottom edge of the top body piece. This will be the space you use to turn the carrier right side out.
Sew all the way around the carrier, starting and ending at your opening guidelines. Use a 1/2 inch seam allowance and be very sure to keep your straps in place so they aren't stitched into your seam.
Clip the bottom corners so they lay flat.
It's time to turn your carrier right side out! Reach your hand in and gently pull the straps and headrest through the opening. Use a chopstick to push out any corners and press all seams flat. Fold each side of the 5 inch opening in and press flat. Topstitch close to the edge around the entire carrier.
Admire your almost-finished project that finally looks like a carrier. Ooh and aah over it and show it to everyone in the house. (Surely I'm not the only one who does this, right?!)
Step 6: Waist Strap
Fold the remaining long strip of fabric in half width-wise and finger-press the fold so there is a crease. Unfold and mark 5 inches on each side of the crease. You should have a 10 inch opening guideline.
Fold the strip in half lengthwise with right sides facing each other. Stitch down the long side of the fabric using a 1/2 inch seam allowance, but do not sew through your opening guideline. Finish the ends of the strip as you did the shoulder straps in Step 2.
Using your loop turner or chopstick, turn the strap ends right side out and push out with the chopstick. Fold the opening in like you did in Step 5. Use a ruler to get the fold as even and straight as possible since this will show on your finished carrier. Press flat.
Step 7: Final Assembly
Insert the bottom edge of the body fabric securely into the opening in the waist strap. Pin in place.
Fasten the body to the waist strap by topstitching around the entire strap (not too close to the edge around those pointy corners), and double-back over the body to reinforce it.
You did it!! See, I told you it wasn't too hard. Now go surprise a special little someone in your life with a gorgeous, handmade baby doll carrier! And don't forget to share a photo of your carrier by linking up with us below.
MORE KID-CENTRIC FUN FROM MOMTRENDS
PIN IT!
Need more ideas on what to do with the kids? Be sure to follow our Activities to Do with the Kids board on Pinterest here.