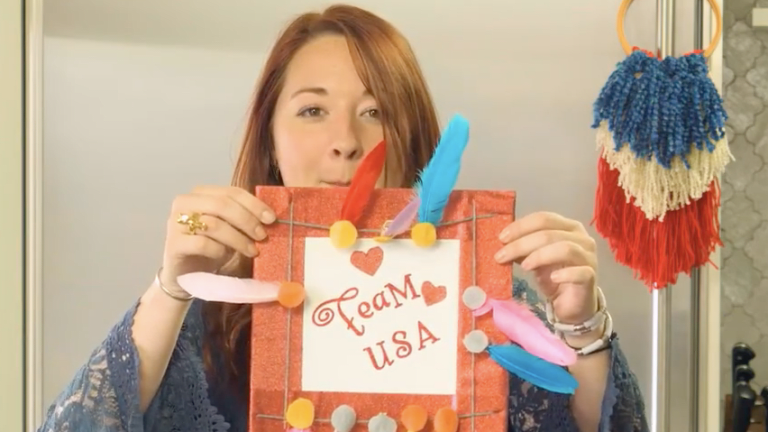 Medal Counter Easy Olympics Craft
An easy cereal box craft that helps kids track the Olympic action and practice counting.
I've got Olympics fever. I've always been such a supporter of Team USA and get totally into watching. The drama, the action! I love it all. And the best way to keep up with Team USA is to make this fun Olympics inspired medal counter. This is a great craft for kids because they love taking something like a cereal box and transforming it into something completely new.
Related: Olympics craft round up
Medal Counter Supply List
We are especially thrilled to use so many household materials and repurpose a cereal box.
a cereal box
spray paint
washi tape or duck tape (or both!)
scissors
yarn
felt in "gold", "silver", and "bronze" (hello, orange, and grey)
mini clothespins
feathers
hot glue
stickers
Using Our Medal Counter
I love recycled/upcycled projects and this one is great for getting the kids involved. They will love moving over the feathered medals and keeping tabs on their favorite athletes. You can even add in their favorite athletes and count their specific medals as well. The Olympics also provide the perfect opportunity to discuss diversity and sportsmanship with your children.
Medal Counter Video
Ready to craft? This video walks you through the process. For all the details be sure to watch our tutorial:

The opening ceremony starts on July 23rd and the games run through August 8th. 
A little history: Did you know that the life cycle of the Olympic Games begins with the submission of candidacies to host the Games---and then, seven years before the games are held, the host city is chosen?
MORE OLYMPICS FUN FROM MOMTRENDS
PIN IT!
Want more ideas on how to have fun with the kids during the games? Be sure to follow our Olympic Fever board here.
Momtrends was not paid for this post.