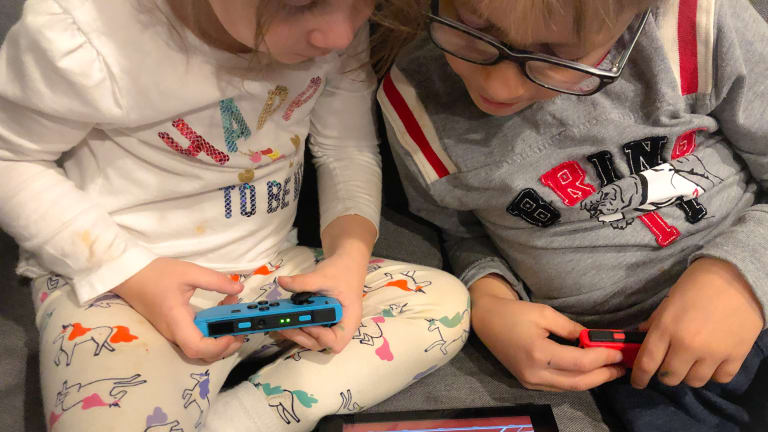 Retro-Meets-Modern Gaming: Mario & Sonic at the Olympic Games Tokyo 2020
My seven-year-old doesn't really "get" my job. But then a work perk will come along that has his name all over it, and suddenly mama has the best gig on the planet. 
Case in point: A few weeks ago I was offered a sneak-peek advanced preview of the new Mario & Sonic at the Olympic Games Tokyo 2020 game, I asked my mini man if he'd be interested in helping me review it for Momtrends, and, suffice to say, I had the most eager-beaver intern ever.
Up until this point in my momming-meets-blogging career, I've avoided veering into gaming content. Video games (are they even still called that?) have gotten far too complicated for this millennial mama and, let's be honest, I lack the eye-hand coordination (not to mention patience) required of successful players.  It's been years since I've picked up a controller, and honestly, until I did a bit of googling, I wasn't even aware that this Sega-Nintendo crossover was a recurring series. But my young son has an innate knack for and love of all things Switch, and I've been trying to learn more--so that I can play with him... or, better yet, against him.
And I've got to say--with fun challenges and a hearty dose of nostalgia, I picked the right game to reignite my gaming passion. 
In Mario & Sonic at the Olympic Games Tokyo 2020, you get to pit all of Mario's and Sonic's iconic characters against each other in exciting games and activities. From the skate park to the diving board to the archery range to the gymnastics floor, you get to play out rivalries while mastering Olympic sports in an incredible suite of 3D and 2D events, imaginative Dream events, and an expansive Story Mode.
What I Love About the Game
I thoroughly enjoy the premise behind the game: Dr. Eggman and Bowser have hatched a nefarious plan to trap Mario and Sonic in a 2D-console video game centered around the 1964 Tokyo Olympics games. Basically, they're stuck in the past. All the other characters are competing in the present day Olympics to try to get them out. The 2D 1964 mini games are my favorite--they reminded me of the games of my childhood--retro gaming at its best!
What My Kid Loves About The Game
"I love the 2020 skateboarding. You get to do all these really cool jumps and you can go on the edge of the ramp and balance. My second favorite is 2020 surfing because you can go under waves. I love the boxing game--there's a 1964 version and a 2020 version; they are very different but equally fun."
Worth Noting About the Game:
There's a Wide Variety of Events: You get to skateboard, surf, and race your way to the top of the podium. There are more than 30 events to master in this fun-filled Olympic Games showdown, and plenty of ways to prove your skills to your friends in local and online multiplayer. Some are harder than others; archery is very nuanced and floor gymnastics is incredibly complex, while my son's beloved 2020 skateboarding is fairly breezy. Heck, even my four year old was able to pick up many of the mini games!
Whimsy Pushes Boundaries: Dream Events deliver a layer of fantastical chaos. You can zip through a downhill obstacle course on your hover board, throw down for territorial control with lightning-fast karate action, or smash the most targets inside a traditional Japanese manor.
So Many Ways to Play: Exclusively on Nintendo Switch, you can determine who the real champion is while using the fun and flexibility of Joy-Con controllers to your advantage.
The Gang Is All Here: You can play as Mario, Sonic, and a star-studded cast that include iconic SEGA and Nintendo characters!
And the Gold Medal Goes to...
Of course as a mom, I always appreciate it when there's learning through play. There are Olympics and gaming facts shared throughout story mode, and as an Olympics lover I appreciate the fact that my little guy is so excited to spew all this newly acquired knowledge. But, most of all, we're both delighted that we get to share the fun and play together--yes, I'm officially hooked, and it's a win-win... Gold medals all around.
Mario & Sonic at the Olympic Games Tokyo 2020 for Nintendo Switch is available today!
Want more from Momtrends?
1. Tech-Free Games Your Kids Will Love
This is not a sponsored post. We received the game to facilitate this review.