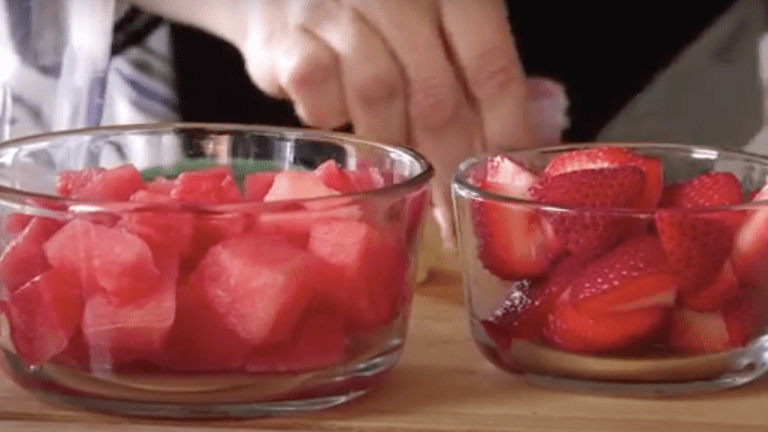 In this fun new food video we are cooking with mom of four and owner of Sage Spoonfuls, Liza Huber. Using only a few steps, Liza shows us how to make a simple, delicious and healthy watermelon and strawberry popsicle.
Related: Easy breakfast recipe scrambled egg cups
Make Your Own Watermelon & Strawberry Popsicles
Traditional store-bought popsicles are usually expensive, loaded with sugar and preservatives, and not necessary. This simple recipe uses Sage Spoonfuls tools (which are great for preparing baby food) to mix up our own summery treats.
Watermelon & Strawberry Popsicles Video Tutorial
Check out this fun video where she shows a fantastic recipe for how to make a healthy and delicious summer treat both you and your kids will love!
Be sure to subscribe to the Momtrends YouTube Channel for even more delicious food recipes and coverage of the latest trends.
More Pop Recipes:
Confetti Yogurt Pops from Parents.com
Makes: 6 pops. Prep: 10 minutes
Freeze: 4 hours
View Nutrition Facts
Ingredients:
* 2 cups low-fat vanilla yogurt
* 1 cup assorted berries (raspberries, blueberries, blackberries, chopped strawberries)
* 5 pretzel rods, halved, or 10 baked snack stick crackers
Directions:
1. In a large bowl gently stir together the yogurt and fruit. Spoon into 4-ounce ice-pop molds or 3-ounce paper cups. Cover molds or cups with foil; use a sharp knife to cut a small hole in the foil and insert cut side of pretzel rod or snack stick. Freeze until firm. Remove foil and mold or cup before serving.
2. Store for up to a month. Makes 6 pops.
You can also log onto Parents.com for a other yummy and easy snack ideas.
MORE FOOD IDEAS FROM MOMTRENDS
Need more weeknight dinner inspo?
PIN IT!
Use Pinterest to save your favorite recipes. Be sure to follow our Healthy Eats board