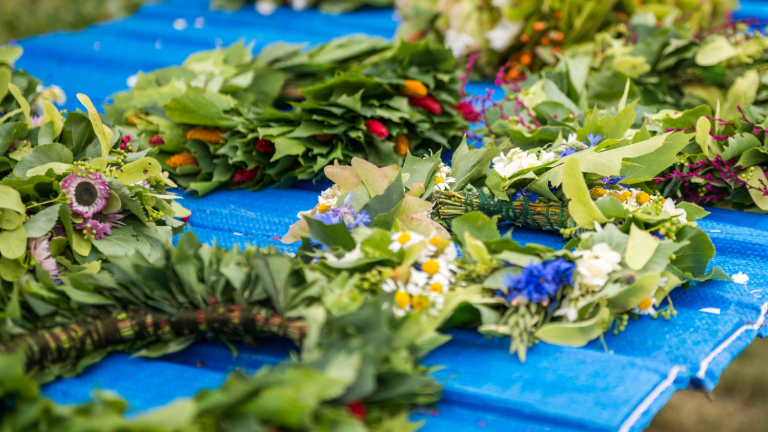 Make a Swedish Floral Wreath to Celebrate Midsommar
Celebrate Midsommar with your kids, it's the Swedish celebration of summer and falls on the longest day of the year.
Midsommar is also known as Midsummer's Eve or Midsummer's Day. It's the celebration of summer and falls on the longest day of the year. After a long dark winter Midsommar is a time to party! We're inviting you to make a Midsommar floral wreath craft and learn a little more about Sweden.
Related: Celebrate Chinese New Year with Your Kids
What is Midsommar?
Midsommar is celebrated on the longest day of the year and the shortest night (summer solstice) This year Midsommar is celebrated on June 24, 20121. The night before is celebrated by raising the maypole (majstång) and full of singing, dancing and drinking.
Midsommar is celebrated in many countries but it's mostly loved by the people of Sweden and is probably more loved by Scandinavians than Christmas!
How to Celebrate Midsommar 
Celebrate Midsommar by picking fresh local flowers. These freshly picked flowers show the celebration of summer. Men, women dan children wear a flower wreath on their heads and dance around a maypole!
Midsommardagen translates to "Midsummer's Day" in Swedish.
Tradition is that young girls place 9 different types of flowers under their pillows to dream of their future husbands.
Make Midsommar Crafts 
My daughter and a friend made these sweet floral wreaths to wear on their heads for Midsommar this year. We're going to show you how you can make your own flower wreath to celebrate with this summer!
Supplies:
Variety of faux flowers
Stem Wire (thicker ones work best)
Floral tape
Accessories - butterflies and ribbons
Scissors (not shown)
STEP 1
Start by making a circle out of your stem wire. Measure it on your head for size. Cut flowers off the large bunches, be sure to leave a little stem so you can attach them to your floral wreath.
STEP 2
Using little pieces of floral tape, tape the flowers onto you wreath. Layer them slightly to create a full look.
The floral tape was a little difficult for our 5 and 6 year old to get started but with the help of Moms we got them started and then they could finish wrapping each flower on their wreath to make a pretty pattern.
Crafting tip: We precut the floral tape into small pieces for ease.
STEP 3
Once you are done adding your flowers to your wreath, you can add embellishments. We added a few butterflies I picked up in the floral section and tied some pretty ribbons on the back.
Didn't their flower wreaths turn out great!? Now we're ready to celebrate Midsommar like a Swede!
Make Traditional Midsommar Swedish Food 
Typical food served at a Midsommar Festival is pickled herring, boiled potatoes and fresh fruit. Often long tables are set outside and filled with lots of yummy foods and drinks.
You can serve a delicious dessert like this Strawberry Meringue Layer Cake recipe we found. It looks so fresh and summery!
Books to Celebrate Sweden
We've rounded up a collection of Swedish books children will enjoy reading to celebrate Midsommar.
The Flowers' Festival // D is for Dala Horse // The Midsummer Mouse // Peter in Blueberry Land // Midsummer's Night Dream // Swedish Folk Tales // A Swedish Midsummer Tale
Midsommar Festivals
Many celebrations pop up across the country. Here are a few to check out with your family.
MORE KID-CENTRIC IDEAS FROM MOMTRENDS
PIN IT!
Use Pinterest to save your favorite family travel destinations to help inspire your next trip. Be sure to follow our Travel with Kids board here.