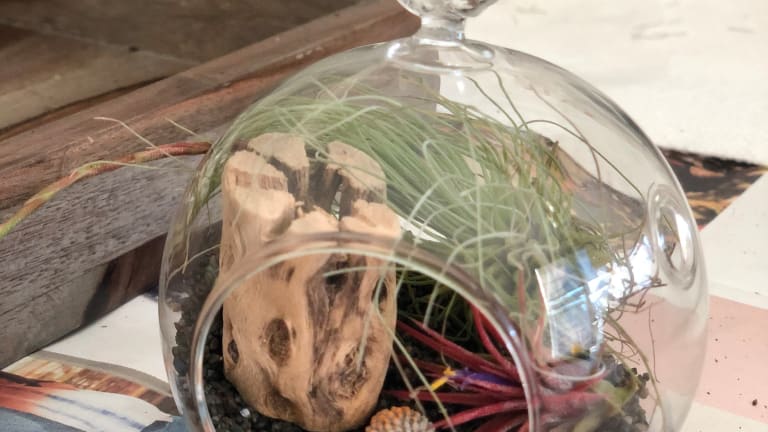 Make An Air Plant Terrarium
This mini planting project is perfect for families who struggle to keep plants alive and crave crafts with minimal mess.
I have killed many a houseplant in my time. Thankfully, succulents and air plants are on trend and easy to work into crafting projects. Set aside some time this summer to make and air plant terrarium. It's part toy, part project, and part science experiment! 
Related: DIY mini succulent garden
Getting Started with Your Air Plant
If you struggle to keep green things alive, this craft is for you. It's a low-maintenance living thing. And it's relatively inexpensive to create this project. I got my supplies from the family owned and operated Succulent Source. They put together kits that offer everything you need and they can ship anywhere in the country.
All the supplies we needed were included in our kit, even the adorable hedgehog!
Order your kit here Thesucculentsource.com
Momtrends tip: This is a great project to do outside. There is dirt involved. If you work inside, be sure to spread out old papers to work on.
Make An Air Plant Terrarium Video
Follow along with our simple video to see how to create this fun DIY project.
Learning about Air Plants
I did a little research on Wikipedia and learned a bit about these fun plants. As you do the project, sprinkle in some biology to the kiddos.
Air plants native to the forests, mountains and deserts of northern Mexico and south-eastern United States, Mesoamerica and the Caribbean to mid Argentina. 
Air plant leaves are covered with specialized cells (trichomes) capable of rapidly absorbing water that gathers on them. 
Air plants are epiphytes. This means they derive moisture and nutrients from the air, rain, water or from debris accumulating around it. They live ON the soil, not IN it. 
Caring for Your Air Plant
When it comes to where to put your air plant, there's not need to be too fussy. Air plants should be kept where they'll receive bright, indirect sunlight or under fluorescent home/office lighting.
Every week or so, we take the little plants out of the terrarium and soak them in water for 30 minutes. We take them out, dry them on a paper towel and plop them back in the terrarium. NO need for watering these little guys. They might need more water if they are in direct sun.
I hope you will enjoy this craft. Thanks to our friends at The Succulent Source your family can stay safe at home while have everything you need to create this beautiful project.
MORE SUMMER FUN IDEAS FROM MOMTRENDS
PIN IT!

Need more ideas on what to do with the kids? Be sure to follow our Activities to Do with the Kids board on Pinterest here.