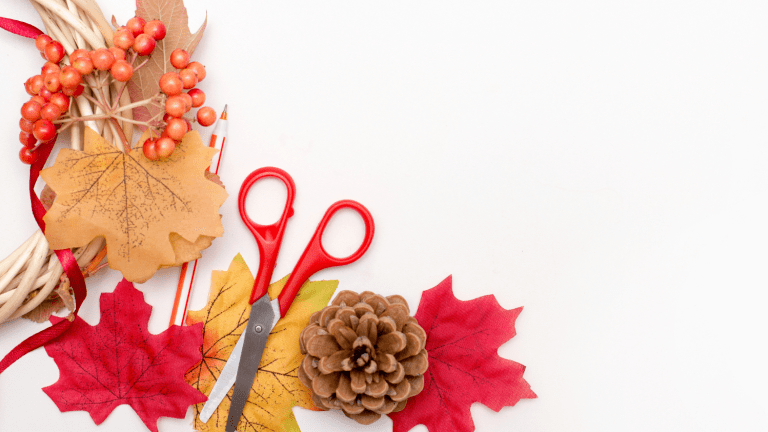 Make a Fall Leaf Menu for the Holidays
This simple craft combines our family's love of nature and food.
I'd rather throw a party than crawl under the covers. Are you with me fellow hostesses? Let's talk about harvest season. It's a favorite time to entertain. To celebrate the season, try this fall leaf menu craft. It's perfect for Thanksgiving or just for fun.
We have this amazing mini-orchard in our backyard in Connecticut. This year the apples were amazing--and 100% organic--we don't spray them. Every year we host a dinner party that incorporates MANY things with apples in them (including this squash soup). When I plan a party, I want to let my personality shine through. Feeling less than 100% just wasn't going to work with my "hostess with the mostess" attitude.
Make a Fall Leaf Menu for the Holidays
While I was planning the menu, I asked the girls to get involved. We decided it would be fun to have an official menu for the party.
Here's how you can get your kids involved in this easy and fun craft. Make your own menu.
Fall Leaf Menu Supplies
White paper
Markers
Hot glue gun
Cardboard
Leaves
Fall Leaf Menu Directions
Have your kids practice penmanship drafting the menu in pencil. 
Once it's approved, have them trace the menu in marker. 
Now comes the fun! Have them forage in the yards for twigs, leaves, mini pinecones--anything that they like. 
With supervision glue the paper menu onto cardboard--leave about an 1" around the edge for decor. Then start layering on the "nature" they found outside. My girls loved contributing to the fanciness.
That's not all they can help with. My girls also cook--and set the table. Let's talk about a fun party-ready fall table. We gathered more than a dozen apples for the meal--and a few extra for this fun tablescape. While the soup was simmering, the girls and I got to work creating this. We used apples from the yard, cloves, leaves, mini gourds and a bit of colorful string to pull it all together. With this type of arranging, you really can't go wrong. When I needed to get back to cooking, I sent the girls out to look for more to forage.
MORE KID-CENTRIC IDEAS FROM MOMTRENDS
PIN IT!
Use Pinterest to save your favorite family travel destinations to help inspire your next trip. Be sure to follow our Activities to Do with Kids here.
This is not a sponsored post.