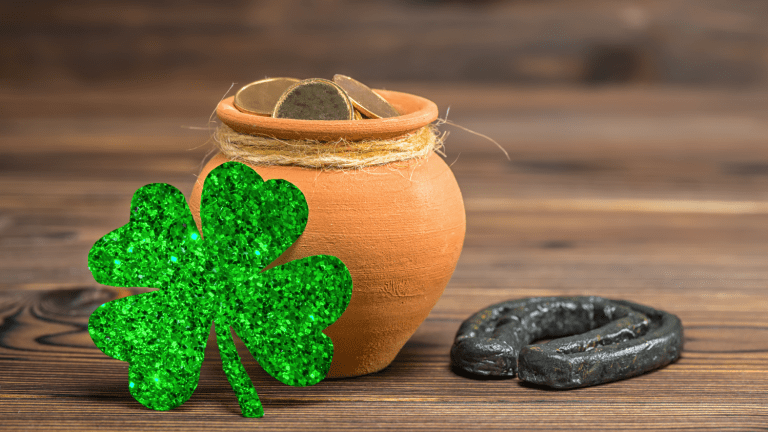 Publish date:
Leprechaun Trap for Kids
The kiddos will enjoy waking up to the leprechaun's tricks.
The kiddos will enjoy waking up to the leprechaun's tricks.
It is getting so close to St. Patrick's Day. And this year, we wanted to do more than just wear green and bake Irish soda bread muffins. To celebrate, we have been reading How to Catch a Leprechaun by Adam Wallace. My kiddos learned how quick leprechauns are, how mischievous they can be and how hard they are to trap. They said, "We can catch one! Let's make a trap!"

Related: 10 St. Patrick's Day treats for kids
How to Make a Leprechaun Trap for Kids
We set out to craft a trap equal to these clever little fellows. We had most of these supplies on hand and whipped it up in a flash. Set this out the night before St. Patrick's Day. The kiddos will enjoy waking up to the leprechaun's tricks.

Leprechaun Trap for Kids - Materials
Empty Coffee Container

Scissors

Green, Black and Gold Paper

Tape

2 Jumbo Craft Sticks

4 Small Craft Sticks

Hot Glue and Gun

Gold Paint

Foam Brush

Pink, Yellow, Blue, Purple and White Paper

Glue Stick

Tooth Pick

Pillow Fluff

Cardboard

Leprechaun Trap For Kids - Instructions
Take the lid off the coffee container and tape green paper to the outside of it. 
Trace a small salad plate onto green paper. Cut out the circle and tape it to the bottom of the container, so it looks like a hat. I rolled a few pieces of tape to make double-sided tape. Then, I stuck the green circle on the bottom of the container.
Cut a strip of black paper and tape it right above the bill of the hat.
Cut a square out of the yellow paper. Cut the middle out of the square to make a buckle. Tape it to the black strip of paper, so it looks like a belt.
Hot glue 4 small craft sticks to 2 jumbo craft sticks to make a ladder. Have your kiddos paint it gold with a foam brush.
Once the ladder is dry, hot glue the top center to the side of the green hat. Our hat was a little too tall for the ladder. So, I cut an inch off the top using a kitchen knife.
7. Make a rainbow out of the pink, yellow, blue and purple paper. Optional: glue a little white cloud (made out of white paper) to the left side of the rainbow.

New Victory Announces a New Season of Shows
We know you're busy planning picnics and summer outings, but we wanted to let you know that The New Victory just announced their new season and it looks fantastic. We thought you'd like a sneak peek of what's in store! Each year the New Vic theater brings culture to tourists and ...read more
Fun Ways to Discover Venice Italy with Your Family
Greetings from Italy wear the gelato is rich, the clothes divine and the scenery is inspiring. Now that I've been to this fine city in the north of Italy, twice, I've amassed a list of favorites to share. These are some fun ways to discover Venice, Italy with your family. ...read more
8.Tape a toothpick to the back of the rainbow and stick it between the green paper and coffee container at the top of the hat.

9. Add a little bit of pillow fluff or stretched-out cotton balls at the opening of the hat. You need just enough for the fluff to stay at the top.

10. Next, add your gold pieces. We didn't have any chocolate gold coins. So, I cut circles out of cardboard and had my kiddos paint them gold. We set them carefully on top of the fluff.

Setting Up the Trap
The night before St. Patrick's Day, set out the trap for the leprechaun. When your kiddos are asleep, push the fluff to the bottom of the container and leave a little note saying, "Your trap was quite good, but it couldn't trap me. Maybe next year you'll do much better and I won't be able to flee."

For added fun, make a small mess around the trap (since leprechauns are mischievous). I hope you have so much fun with it!
MORE ST. PATRICK'S DAY FROM MOMTRENDS
Here are more ideas from the archives.
PIN IT!
Use Pinterest to save your favorite crafts, menus and parties for St. Patrick's Day here on the Momtrends St. Patrick's Day Board.
This is not a sponsored post.