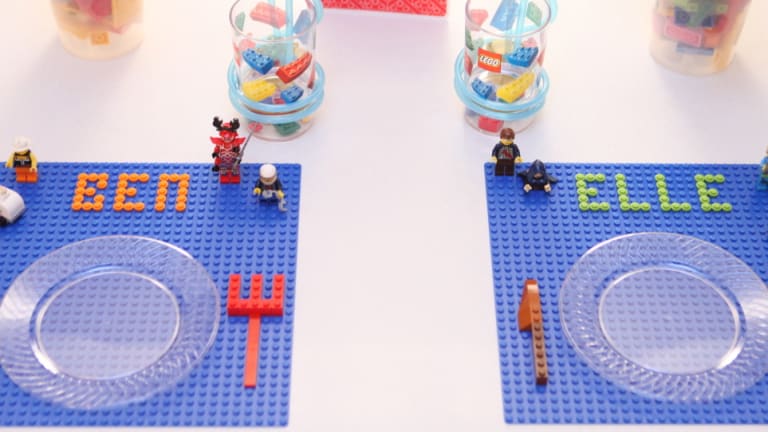 Publish date:
Lego Birthday Party
We are entertaining with LEGO to celebrate a special child's birthday. Activities, snacks and decor for a fun celebration.
We are entertaining with LEGO to celebrate a special child's birthday. Activities, snacks and decor for a fun celebration.
This month on It's A Party, we are entertaining with LEGO to celebrate a special birthday. Check out the hand-crafted invitations, LEGO cake making, personalized place settings, and LEGO departing gifts. Come on and let's party….
Celebrating a birthday is one of the most joyous occasions of the year. It is as important as the first moment my child arrived into the world. The goal of the birthday party is to honor life and its passions. My 5-year-old son loves LEGO, simply stated.
THE INVITE
The invitations are from LEGO.com. The kit includes cards of different sizes and patterns that can be personalized with the stickers and a stenciled note.
THE CAKE
Remember how I said to think about your child's passions in life? Well, I did and ended up creating a cake around his favorite things - LEGO and Swimming. And here you have it…using two 9" round cakes, colored whipped cream, kit kat bars, jelly rings and of course, LEGO to build the rafts, ladder and lifeguard stand.

Five Tips To For a Girl's First Leg Shave
Do you remember your first time shaving? Mine wasn't pretty. I snuck my dad's razor and shaved my legs dry. It wasn't pretty. Get your daughter ready for this rite of passage with the right tools and a quick education. We've got five tips to help you navigate your daughter's ...read more
Why You Should Add Wild Blueberries to Your Diet
Do your New Year's goals involve healthier eating? Adding more fruits and vegetables to your diet? Or even adding tasty new recipes to your repertoire? We've got five reasons for you to add wild blueberries to your diet. Our friends from the Wild Blueberry Association have ...read more
Why Moms are Loving This Blueberry Couscous Salad
It's blueberry picking time. And while most blueberry recipes revolve around baked goods, we've got something different to share. First, a few sentences singing the praises of this lovely fruit. Blueberries are high in antioxidants, improve memory function and reduce the effects ...read more
THE TABLE SETTING
Regardless of the demands placed on parents to spend thousands of dollars on extravagant parties, an at-home birthday party is still the best and most memorable. Create personalized place settings with LEGO boards and tableware to complement.
THE GOODY BAG
Use LEGO containers filled with an assortment of blocks for more building at home. We customized the containers with tags.
WHAT TO DO WITH ALL THAT LEGO
I found this cap holder (Bed Bath and Beyond) to encase the constantly evolving lego creations.
Happy Birthday and Happy Building!
More Birthday Parties from Momtrends
Pin it!
Be sure to follow our Kids Birthday Party board on Pinterest for more party inspiration.
This is not a sponsored post.