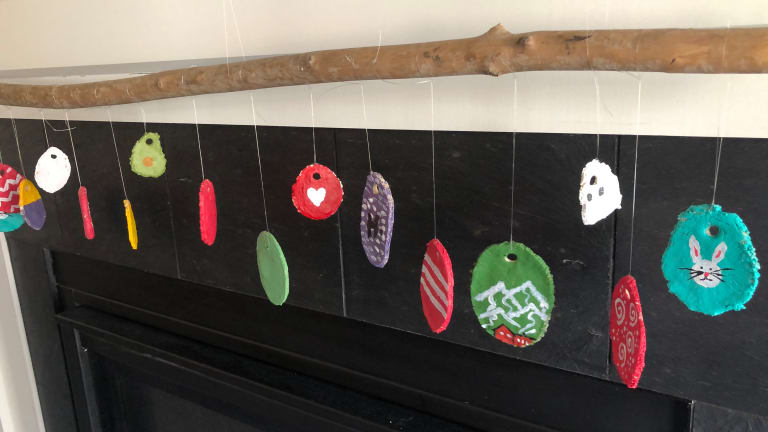 Last Minute Easter Crafting Fun Idea
Try this last-minute craft to make this Easter memorable. It doesn't require much in the way of supplies to make this salt dough egg display.
When I say I have very few skills when it comes to crafting, that would be an understatement. Since we've been social distancing and holed up at home, I've been tapping into some newfound creative energy to keep the kids entertained. I came up with this last minute Easter crafting fun idea to make an Easter egg display for my mantle. 
Related: Three free Easter printables
It all started when I was looking on Pinterst for crafting ideas. My friend Gabrielle aka the Design Mom created these awesome salt dough Easter eggs. 
Simple Salt Dough Recipe
It starts with her simple salt dough recipe:
1 cup flour
1/2 cup salt
1/2 cup water
Mix up this dough and then roll it out to 1/4 inch thick. According to Design Mom, this is where she took a roller to her dough and cut out the desired shapes with cookie cutters, placed them on parchment paper and baked them for 2 hours at 250 degrees. This is where things got interesting.
Creating Salt Dough Eggs
We didn't have cookie cutters so we cut the eggs free form. I'm quite comfortable that they weren't uniform and how the edges are a little ragged. They are funky and quirky --just like us. 
After our "eggs" were baked and cooled we got our acrylic paints and got to work. We made ghosts and hearts and some Easter-y looking eggs. We had an afternoon of fun.
Creating a Rustic Easter Egg Mantle
After the eggs were dried, we went for a hike to go stick hunting. We found a nice long stick to bring back to put on our mantle. 
I got some fishing line and command hooks to hang the stick and then I used more line to hang the eggs along the stick. We varied the lengths of the fishing line that holds the eggs to add a little visual appeal.
As you can see the finished result is fun but not polished. Right now we need to celebrate the small wins and enjoy the process. I hope this little craft inspires you to get creative in how you celebrate Easter.
MORE EASTER IDEAS FROM MOMTRENDS
PIN IT!
Use Pinterest to save your favorite entertaining ideas. Be sure to follow our Easter Pinterest board here.