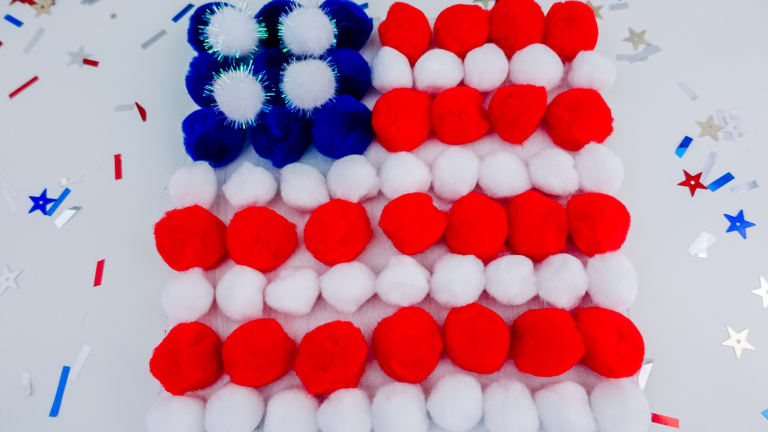 Kids Pom Pom Flag Craft Project
Keep the kids entertained this summer with this easy red, white and blue flag craft.
It seems like all the summer holidays can use a great red, white and blue craft for the kids. This summer, we plan to keep the kids entertained with this kid's pom pom flag craft. It's easy and involves a bit of recycling too.
Related: How to make your own dinosaur egg
With little kids, it's easy to contain the mess if you start with setting all the supplies out early. We like this craft because the supply list is short and easy to gather. 
To make this we start with a good old cardboard box. I always encourage moms to keep a few of these on hand--it's pretty easy with all the Amazon deliveries we get. Thanks to the limitless cardboard supplies, we always have blank "canvases" to work with.
GETTING INSPIRED
To help on this project, we enlisted master crafter Karimah Henry from the site craftingafunlife.com.
If you haven't checked out her site before do it ASAP. Karimah came up with a list of supplies and step-by-step instructions for creating this cool craft.
Pom Pom Flag Craft Project Supplies
Recycled cardboard
Scissors
Pom poms, 45-60 (red, white & blue-1 in)
Sparkle pom poms, 4-6 (white-0.75 in)
White paint
Craft glue
Foam brush 
Pom Pom Flag Craft Directions
 First, cut recycled cardboard into a square then paint white. Allow to dry.
Next, glue the blue pom poms in the left top corner then add sparkle pom poms.
Finally, alternate rows of red and white pom poms to make the stripes.
Once the flag is finished you can hang it on your front door, or give it a spot of honor on the refrigerator.
MORE KID-CENTRIC IDEAS FROM MOMTRENDS
PIN IT!
Use Pinterest to save your favorite family travel destinations to help inspire your next trip. Be sure to follow our Activities to Do with Kids here.