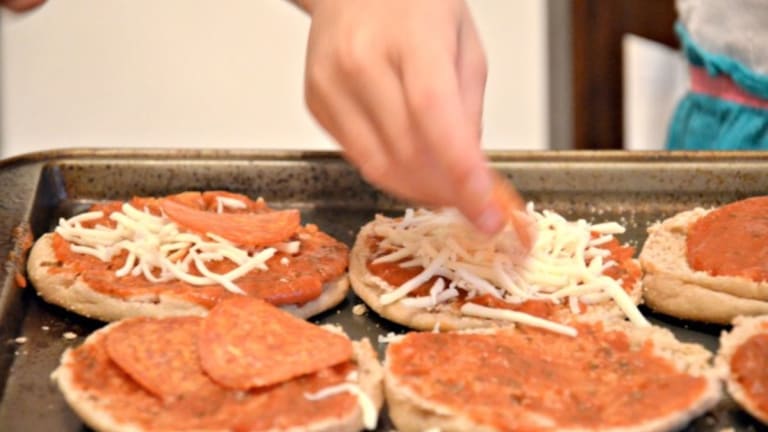 With summer break on the horizon, or already started for some families like mine, we'll be looking for more ways to entertain the kids. If you've got little ones, this quick and easy mini pizza recipe is a great way to get your kids in the kitchen and learning to cook.
Related: Best pizza recipes for your kids
Cooking lunch (or dinner or snack) together is a great opportunity to teach them life skills, give them a little independence and have fun together. These quick and easy mini pizzas have been a hit in our house since my 6 year old was a toddler.
Quick and Easy Mini Pizzas Ingredients:
English muffins
Pizza sauce
Toppings (cheese, pepperoni, mushrooms, peppers, olives etc)
Quick and Easy Mini Pizza Directions:
Parents, cut the english muffins in half and place on a baking tray. 
Preheat your broiler. 
Let the kids top the mini pizzas with the pizza sauce and toppings of their choice. 
Bake under broiler for about 5-6 minutes or until hot and cheese is melted and bubbly. 

Save Money at a Ski Swap
Are the slopes in your future? If you want to save money on ski gear, consider a ski swap. A swap is a great way to buy and sell used equipment. Most swaps consist of a variety of gear, from brand new to used skis and snowboards to skis; from poles to boots to bindings and ...read more
The Ten Best Wooden Play Kitchens For Kids
Cooking is a timeless fascination for children. This type of play goes beyond gender and teaches kids loads of life skills along the way. An investment in a play kitchen is money well spent, as it can provide hours of entertainment. We've rounded up the ten best wooden play ...read more
New Victory Announces a New Season of Shows
We know you're busy planning picnics and summer outings, but we wanted to let you know that The New Victory just announced their new season and it looks fantastic. We thought you'd like a sneak peek of what's in store! Each year the New Vic theater brings culture to tourists and ...read more
We've used different toppings throughout the years, but this day we picked the classic cheese and pepperoni. Feel free to use what you have on hand and create different combinations. Let kids experiment with different flavors. Since the pizzas are so little you can make lots of different kinds without feeling like you will waste it if you don't like it. Give the kids free reign to create their pizzas.
We have made these quick and easy mini pizzas for play dates and kids are always excited to make their own mini pizzas. And since this recipe is a simple one, it's easy for even the little helpers, like my 20 month, old to jump in. I'm pretty sure he ate just as many pepperonis as he put on the pizzas.
Enjoy these quick and easy mini pizzas with your kids this summer!
MORE FOOD FEATURES FOR YOUR FAMILY FROM MOMTRENDS
PIN IT!
Use Pinterest to save your favorite recipes. Be sure to follow our Kid Food Pinterest board here.
This is not a sponsored post.