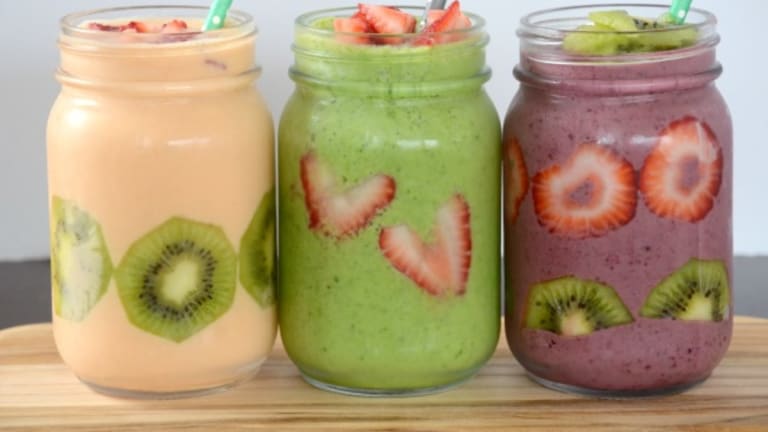 To say that I really love my daughter's elementary school is an understatement. To help promote health and wellness with the kids, they recently had a smoothie contest. The kids had to come up with a smoothie recipe. They had to include a fruit, vegetable, grain, dairy, and protein. Ariana was super excited about this "challenge," so we sat down together one weekend and created recipes to test out. We came up with three kid-approved smoothie recipes that we think your kids will like too.
Related: Take the 28-Day Smoothie Challenge
3 Yummy Smoothie Recipes
My daughter and I love doing things together, especially in the kitchen. Part of the fun of being a Mom is matching outfits with your daughter. (I totally take advantage of it while I can!) These Jessie Steele mommy-and-me aprons are so stinking cute. They have a retro feel with the hot pink and gold dots. The ruffled bottom and bows on the pocket up the cuteness factor a few notches.
But, seriously, how yummy do these smoothies look? Loaded with lots of healthy goodness and 100% kid approved!
Sunrise Smoothie Recipe
3/4 cup carrot juice
3/4 cup orange juice
1 cup of vanilla greek yogurt
1 banana
1/2 cup frozen pineapple chunks
1/4 quick cooking oats, grinded
Using your food processor or blender add your quick-cooking oats first and blend until broken up. Blend together the juices, yogurt and fruit. Pour into glasses and enjoy immediately. Makes about 4 servings.

Save Money at a Ski Swap
Are the slopes in your future? If you want to save money on ski gear, consider a ski swap. A swap is a great way to buy and sell used equipment. Most swaps consist of a variety of gear, from brand new to used skis and snowboards to skis; from poles to boots to bindings and ...read more
The Ten Best Wooden Play Kitchens For Kids
Cooking is a timeless fascination for children. This type of play goes beyond gender and teaches kids loads of life skills along the way. An investment in a play kitchen is money well spent, as it can provide hours of entertainment. We've rounded up the ten best wooden play ...read more
New Victory Announces a New Season of Shows
We know you're busy planning picnics and summer outings, but we wanted to let you know that The New Victory just announced their new season and it looks fantastic. We thought you'd like a sneak peek of what's in store! Each year the New Vic theater brings culture to tourists and ...read more
Purple Magic Smoothie
1 cup vanilla honey yogurt
1 tbsp chia seeds
1/2 cup blackberries (we used frozen)
1/2 cup blueberries (we used frozen)
1 cup spinach leaves, fresh
1/2 banana
Blend it all together in a blender. Makes about 16 oz, or 2 servings. Pour into glasses and enjoy!

Best Green Smoothie Recipe
1/2 cup peach slices, frozen
1/2 cup pineapple chunks, frozen
4 ice cubes
1 cup cold water
2 fresh bananas
1 kiwi, peeled and sliced
3 cups spinach leaves, fresh
1 small container of yogurt, about 6 oz
Blend it all together. You may have to stop and give it a few stirs to ensure all the spinach gets blended well. This recipe makes about 36 ounces, or 4-6 servings.
Our whole family loves these smoothies. Let me know which one is your favorite.
MORE FOOD FEATURES FOR YOUR FAMILY FROM MOMTRENDS
PIN IT!
Use Pinterest to save your favorite recipes. Be sure to follow our Kid Food Pinterest board here.
This is not a sponsored post. We did receive samples for review. All opinions are our own.