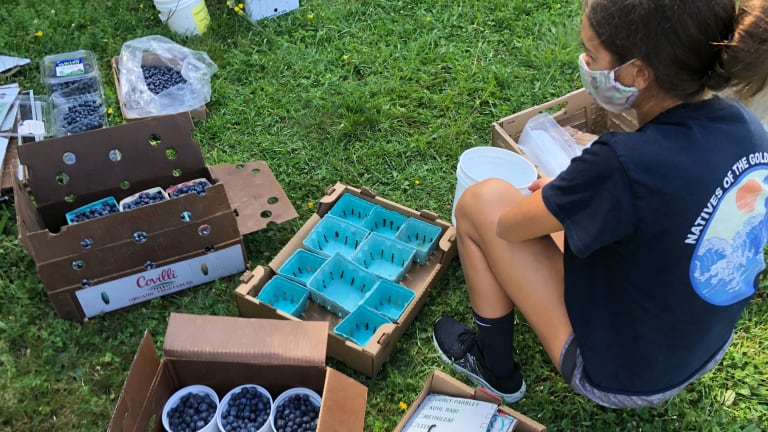 Keeping Teens Busy with Volunteer Opportunities
Ideas to keep teens engaged in the community and developing positive mental health tools.
COVID has cut back on a lot of opportunities for teens to feel like they are a part of the community. Sports, music and theater programs have been slashed leaving teens feeling isolated and bored. With the fall looking dubious at best for a normal school season, it's time to keep teens busy with volunteer opportunities that will keep them safe and busy until things return to normal.
Related: Keep teens busy outdoors geocaching
We've been donating to causes throughout COVID, but I this summer I wanted to focus on ways the girls can get involved and give back too. Did you know volunteering can help protect your child's mental and physical health? Studies have proven giving back can reduce stress, combat depression and provide a sense of purpose--important tools to help building resilience in teens.
Getting Teens Involved in the Community
Take a look at our recent volunteer day with Community Harvest. Volunteering is one effective way to help teens cope with stress.
Many schools have a community service element built into the curriculum. With school out, giving back falls on to the parents to organize. If you are in the position to help your kids find volunteer activities, there are a few that will keep them safe, engaged and doing something positive.
Here are a few ideas on where your kids can safely get involved
We've been focusing on opportunities that allow the girls to help at a safe social distance.
Food pantries: Stocking, shopping, organizing and cleaning.
Animal Shelters: Walking dogs, cleaning and organizing.
Park clean ups: Informal and formal trash pick ups, gardening and clearing. Contact your local parks department or simply grab some gloves, trash bags and masks.
We have been working with Community Harvest here in Vermont as volunteer gleaners. They work with local farms to address food waste issues and help provide healthy food to community members in need. They manage a gleaning calendar where volunteers can sign up to help harvest extra crops.
In these photos we were blueberry picking near Stowe. All the blueberries will go right into the community to give delish, fresh nutritious food where it is needed. It's incredibly efficient. Find out more here www.communityharvestvt.org
Let me know if you have more ideas to add to this list. There surely will be some silver linings to this time of social distance. I'm hoping our renewed commitment to supporting our community will keep going long after there's a COVID vaccine. 
MORE IDEAS ON PARENTING TEENS FROM MOMTRENDS
PIN IT!
Use Pinterest to save your favorite ideas from Momtrends. Be sure to follow our Parents of Teens & Tweens board here.
Momtrends was not paid for this post.