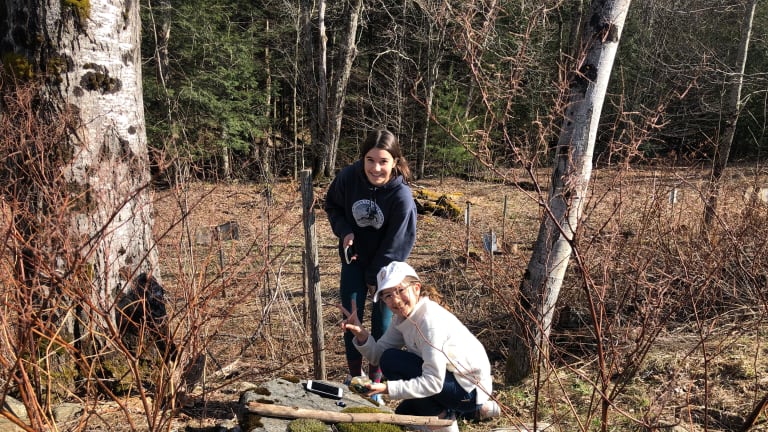 Keep Teens Busy Outdoors with Geocaching
Time to get your kids outdoors. Here's what you need to know to get started with your summer of Geocaching.
Since summer jobs will be hard to find and many camps are up in the air, millions of parents are wondering how to keep teens busy outdoors this summer. Thanks to a classmate, my teen has discovered geocaching. It's a fun and (mostly) free activity to get them moving and engaged. Here's what you need to know to get started with your summer of Geocaching. 
Related: Helping teens cope with stress
What is Geocaching?
Geocaching started 20 years ago (happy anniversary!) in Oregon as a way to combine tech and a love of the outdoors. Think of it as a hike and a treasure hunt all in one. First, you download and app and make a basic profile. Now it's time to find a "cache." The app uses a Global Positioning System on your mobile device to help find containers, called "geocaches" or "caches." 
Where can I find a Cache?
Just about anywhere. The trend has gone global and the hunts are legal everywhere but, you guessed it, North Korea. So far our hunts have been limited to a 10 mile radius in Vermont, and we've got dozens to hunt and find. We use the app to locate new caches and start hunts 1-2 times a week. 
There are millions of geocaches hidden around the world—there are probably some near you right now. 
Get the free Official Geocaching app here and start hunting.
Your First Cache
Here's a step by step guide to getting started on your first cache. 
Open your app and tap on the map icon. 
Zoom in and out to find a nearby cache (it'll look like a little green house), gray houses indicate caches on the premium app, we haven't gone there yet).  
Once you have the target, tap on it and then tap "navigate." From here you'll get a distance reading a route to the cache. 
The cache listing will also provide a description, for instance, "Along he snowshoe trail, 8 o'clock on the base of a fallen tree."
Some caches also provide hints if you get stuck, it's like an extra clue to the mystery. 
Once you are near the cache, it's time to start looking. Caches come in a variety of sizes from micro (the size of a mini flashlight) to small (a small plastic food container or thermos). 
Containers we have found have been clear or camouflage colored. Usually they are a small metal or plastic box that can withstand the elements and it'll be hidden in a safe but non-intrusive spot.
What's inside a Cache?
Usually there is a paper log of the cache where you can sign in and leave a comment. Sometimes there's a swap of a little trinket. We've left quite a few LEGO figures for "finds," but it's not required. In addition to the paper log, there's a spot on the app to note activity. 
3 Steps to hide a geocache of your own
Once you get hooked, it's likely you'll want to get involved with the community. To help with the process, make sure your cache follows the Geocache hiding guidelines. 
Take the quiz. Read and understand the Geocache hiding guidelines, take the quiz to find out if you're ready to hide your first cache.
Hide your cache. Add a logbook, instructions for finders of your container, and then hide it in a location you want to highlight. Visit our Help Center for tips on how to hide your cache and create your cache page.
3. Submit your cache page for review. A local community volunteer will review your cache page before they publish it. Visit our Help Center to learn more about the cache review process.
Get more caching
Geocaching offers a Go Premium membership. It's $9.99 for three months, or $29.99 for one year. If you get super involved, this is a great option to get more caches.
Know the Code
Like all things trendy, there's lingo involved. On the cache logs you'll see a lot of abbreviations. One I noticed right away was the term muggle. The word muggle was adopted from the Harry Potter series of books, and refers to someone who does not geocache. Here are a few more useful ones:
DNF - Did Not Find
BYOP - Bring your Own Pencil/Pen
TFTC - Thanks for the Cache
CO - Cache Owner
What do you think? Are you ready to cache? 
MORE IDEAS ON PARENTING TEENS FROM MOMTRENDS
PIN IT!
Use Pinterest to save your favorite ideas from Momtrends. Be sure to follow our Parents of Teens & Tweens board here.