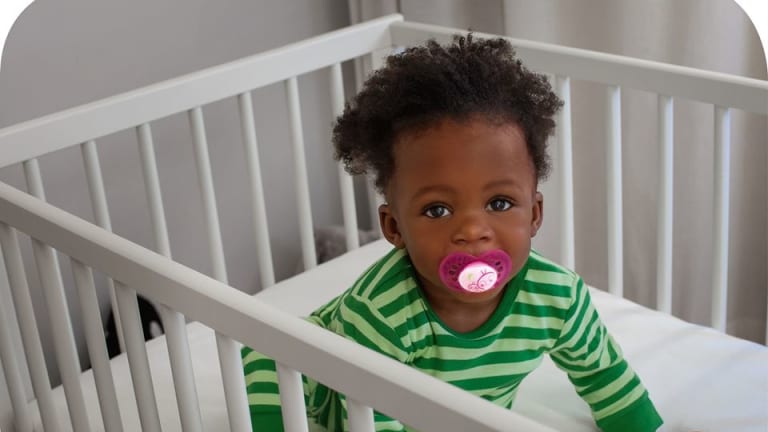 JPMA Announces This Year's Most Innovative Baby Products
Each year JPMA awards honors to the best of the best to win an Innovation Award. Check out the newest products to make your life as a parent easier.
JPMA was founded in 1983 to help consumers make better decisions and to allow manufacturers to share best practices when it comes to safety. In 2020, JPMA is announcing the awards for this year's most innovative baby products online. Can I get a drumroll please?
Access the JPMA Virtual Showroom here.
Who Picked the Winners of the 2020 Virtual Innovation Awards?
Manufacturers have been busy in the past year dreaming up products to make mom life easier. Each year JPMA awards honors to the best of the best to win an Innovation Award. Products were voted on by leading experts from Romper, Good Housekeeping, Parents Magazine, What to Expect, Safe Kids Worldwide and more. More than 5,000 parents nationwide also voted on their must-have product for the JPMA Parent's Pick Award. 
And the JPMA Best in Baby 2020 Innovation Awards Winners Are...
Best in Show: Fisher Price Click™ Hands-Free Baby Gate 
Parents can all relate to this problem. Unlatching a baby gate when you are sleep deprived is the worst. Fisher Price to the rescue. Click™ is the first electronic, auto-unlock, hands-free baby gate. The wall-mounted button offers an easy-release mechanism. Adults can get in with ease while keeping baby safe. The gate opens with a child-proof press and toggle system. Get more info: www.fisher-price.com/en-us (On the market: March 2021)
Best Product Under $25: bökee
Every new mom wishes she had "one more hand." bökee is an innovative feeding accessory that allows parents and caregivers to prepare any bottle or sippy cup entirely with one-hand. This first-of-its-kind product allows pumping moms to transfer breast milk from storage bag to bottle without risk of spilling. Get more info: www.thebokee.com/ (On the market: September 2019)
Winner Best Child Restraint System: CYBEX Sirona S 
CYBEX's new Sirona S is the first convertible car seat in the U.S. to feature an innovative 360° rotatable seat.  We featured this new car seat here. These features, combined with an EasyLock™ bar for quick, simple and secure installation, offer advanced safety protection for children. The Sirona S also features SensorSafe™ technology that syncs with a caregiver's smartphone to provide alerts when a child is left unattended after the car turns off, a child unbuckles themselves, or the ambient temperature around the child becomes too hot or too cold. Get more info: cybex-online.com/en-us (On the market: Spring 2020)
Best Green/Environmentally Friendly Product:  Green Sprouts® Sprout Ware® Straw Cup 
The Sprout Ware® is taking some of the worry out of parenting. They have a new sippy cup that is plant-plastic (a 100% plant-based material that replaces petroleum plastics). The soft, silicone drip-free straw spout and straw supports healthy oral development, and the removable straw allows for tilted or traditional straw drinking options as your baby learns and transitions from bottles or sippy spouts. For little ones 9 months and up. Get more info: greensproutsbaby.com (On the market: April 2020).
Best Nursery Product: Fisher-Price Lumalou Bedtime Routine System
Every parent dreams of sleep and we all are looking for helpful tools to make the bedtime routine easier. The Fisher-Price Lumalou Bedtime Routine System is a revolutionary, all-in-one solution that makes bedtime better from start to finish. The Smart Connect app provides customizability and flexibility to meet the needs of every family. Lumalou guides toddlers through the steps of their unique routine, using icons to represent tasks. With each completed task, pressing the child activated remote unlocks music and light rewards. Get more info: www.fisher-price.com/en-us (On the market: November 2020)
Best Feeding/Bathing/Changing Product: The First Years Super Pooper Plus Potty
Get potty training off to a strong start with The First Years Super Pooper Plus Potty. It helps your potty training toddler sit in the correct position with a foot lift for the perfect squat. To help encourage your child, this toddler potty system includes "flush" buttons that make realistic flushing and cheering sounds. The trainer seat removes to help your child smoothly transition from the potty to adult toilet. Get more info: us.tomy.com (On the market: March 2020)
Best Infant/Parent Care Product: Safety 1st Stay Clean Humidifier
The Safety 1st Stay Clean Humidifier is the only bacteria-killing and mold-preventing humidifier with patented LED technology on the market. The LED technology (powered by Vital Vio) kills +99.99% of bacteria and prevents mold growth. Get more info: www.safety1st.com (On the market: September 2020)
Best On The Go Product: MONIT America Inc. Bebefit Light Folding Hip-Seat
This is a new twist on a baby carrier. The Bebefit Light is a compact stand-alone hip-seat waistband. This carrier has a foldable mechanism tested to support up to 110 lbs. I like the modern colors and the sleek lines. Get more info: bebefit.io/collections (On the market: January 2020)
Best Play/Entertainment Product: Lamaze 3-in-1 Airtivity Center
A first-of-its-kind in baby-to-toddler learning, the Lamaze 3-in-1 Airtivity Center provides 360 degrees of air-powered play in a play center that grows with baby. There are more than eight activities for exploration all focuses on teaching baby how things work with air. Perfect for use from 6-36 months. Get more info: us.tomy.com (On the market: Summer 2020)
Best Safety Product: Cubo AI Baby Monitor
Cubo AI is a smart baby monitor with AI that safeguards babies and toddlers. This clever Proactive Covered Face design alerts parents if their little one's face is covered. This monitor grows with babies through their various development stages and the risks that come with them. Cubo also has a 1080pHD camera for both daylight and night vision, 18-hour playback, two-way audio, three camera stands to grow with your baby, a night light, and temperature and humidity detection. Get more info us.getcubo.com/products/cubo (On the market: June 2019)
Best Stroller: Dream On Me INC Coast Rider Stroller with Canopy
This cool new stroller folds compactly and offers parents a variety of conversions and features including a removable seat back, safety harness with adjustable handles and push bars. It can be easily plugged-in with any stroller, making it a perfect dual ride for older siblings. Coast Rider Stroller Canopy (sold separately) helps shield from harmful sun rays and other environmental factors. Get more info: dreamonme.com (On the market: January 2020)
Best Technology: TotTech ForgetMeNot
The ForgetMeNot is a sensor that is compatible with any car seat to alert the parent if they are about to leave their child in the car. Once added to a car seat the ForgetMeNot is able to sense if a child is in the car seat and then automatically turns on and connects to the TotTech app on the parents' phone. If the phone then ventures too far from the ForgetMeNot, it will trigger an alert letting the parent know that they may be leaving their child in the car. Get more info: tottech.com (On the market: April 1, 2020)
Parent's Pick Winnter: DetraPel® Baby Gear & Fabric Protector
Meet DetraPel, the only safe liquid and stain repellent completely free of toxic cancer-causing "Forever Chemicals," or PFAS. DetraPel® Baby Gear & Fabric Protector is non-toxic and powered by air. It can safely be applied indoor on car seats, strollers, high chairs, changing tables, playpens, etc. This revolutionary safe nano-coating bonds to fabric fibers to keep moisture away, while simultaneously, maintaining the breathability of materials. Get more info: www.detrapel.com (On the market: January 2020)
Up & Comer Award: Strollerwagons Pronto One
This cool new product handles like a stroller but it offers a ton of other solutions for busy moms. The Pronto can be used as a bassinet, a cart, a double stroller, a picnic table, and the ultimate travel nap system. Get more info: prontostroller.com (On the market: October 2019).
Tried and True Awards – FIVE WINNERS
How JPMA Helps Consumers and Brands
Each year the trade group puts on a tremendous trade show that services retailers and consumers. Stores across the country come to the show to see what's new and noteworthy so they can stock up on the very best gear. Parents attend the show to test out products before they make a big purchase. It's a perfect place to give a stroller a spin or figure out how to install a car seat correctly. Due to health concerns, the show is being held virtually this year. 
Congratulations to all the winners. Thank you for making this motherhood gig a little bit easier.
MORE BABY SCOOP FROM MOMTRENDS
PIN IT
Need more ideas on what to do with the kids? Be sure to follow our Baby Things to Love board on Pinterest here.
This post is sponsored by the JPMA.