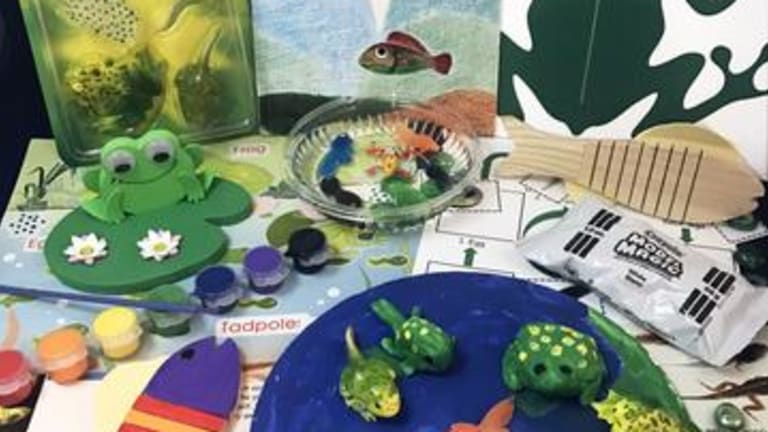 Publish date:
Ivy Kids Educational Subscription Kit
School is almost out and families will be looking for creative and educational things for their children to do.
School is almost out and families will be looking for creative and educational things for their children to do.
IvyKids Subscription Kits are literacy based activity kits that are educational, fun and really encourage families to sit down and enjoy quality time together. Created by certified early childhood teachers, Ivy-Kids' subscription kits will stimulate your children in a fun way while building fundamental skills in math, literacy and science. Everything you need to complete the ten activities comes with the kit, including a detailed guide instructional guide. 
Related: Best monthly subscriptions for toddlers and babies
Each Ivy-Kids' kit is based around a well-known children's book such as Mouse Paint and Jump, Frog, Jump!,  are appropriate for children 3-8 and unlike other one-time use kits, Ivy Kids' Kits can be used for years to come.
We personally tested out the IvyKids Subscription Kits and found it to be a great resource for parents, as well as care-givers; the kits are a great learning vehicle for children that is both fun and engaging. Ivy-Kids' Subscription boxes are a perfect way to avoid the summer slide by keeping your children engaged in quality activities that support problem-solving, creativity as well as critical thinking. 

The Ten Best Wooden Play Kitchens For Kids
Cooking is a timeless fascination for children. This type of play goes beyond gender and teaches kids loads of life skills along the way. An investment in a play kitchen is money well spent, as it can provide hours of entertainment. We've rounded up the ten best wooden play ...read more
New Victory Announces a New Season of Shows
We know you're busy planning picnics and summer outings, but we wanted to let you know that The New Victory just announced their new season and it looks fantastic. We thought you'd like a sneak peek of what's in store! Each year the New Vic theater brings culture to tourists and ...read more
Fun Ways to Discover Venice Italy with Your Family
Greetings from Italy wear the gelato is rich, the clothes divine and the scenery is inspiring. Now that I've been to this fine city in the north of Italy, twice, I've amassed a list of favorites to share. These are some fun ways to discover Venice, Italy with your family. ...read more
PIN IT!
Use Pinterest to save your favorite articles on parenting. Be sure to follow our, Gear for Baby and Kids board here.
For even more Momtrends, follow us on Facebook, Twitter, YouTube, Pinterest and Instagram