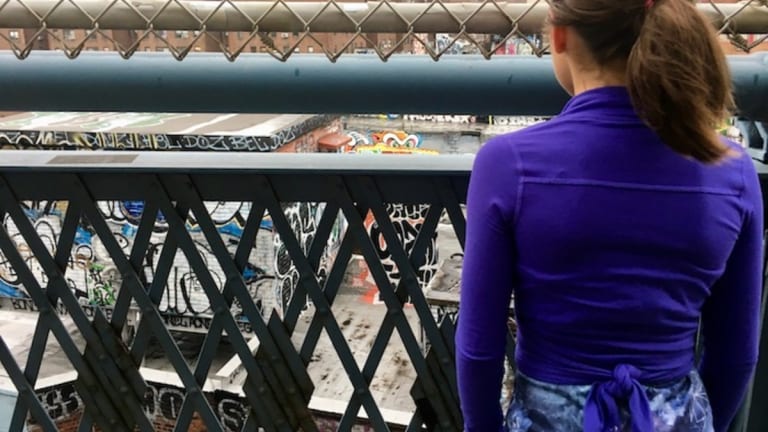 Get the Family Fit with Inspiring Tween Workouts
Smart parenting tips. The five phases of working fitness into your tween's life for good.
Tweens and teens love the gift of great clothing. And I love giving gifts that inspire tween workouts. My 6th grader mostly wanted clothes (and Hamilton Tickets) from Santa this year. Clothes can be hit or miss--the fickle tween can turn on a dime when it comes to brands, but one brand we've found that the girls love is ivivva. It looks sharp enough to wear to school, but don't let the fashion fool you, ivivva fashion is also exactly what you need to inspire your girls to embrace being strong.
Related: Tips for running with tweens and kids
Getting your Tweens to Workout
Tis the season of resolutions. Make this the year you resolve to workout with your tween or teen. We've spent a decade encouraging our girls to DO things not WATCH things.
What does this mean? Less time on the screens more time on the slopes. In our family, winter isn't an excuse to stay inside, it's a reason to get the right clothing to get you outdoors.
To get in shape for ski season, my 11 year old and I have been running together (read more on getting your kids running). It's a way to spend mother/daughter time that isn't forced. It's and easy give and take as we chat about our lives. I'm trying to run with my girls 1-2x a week. Nope, it's not easy, but I am committed to giving them the gift of fitness.
Are you ready? Here's what you need to know
The Phases of Tween Workouts
Phase 1: Denial. They will complain about not wanting to go. Try bribery and tell them you won't drive them anywhere until the workout is done.
Phase 2: Dressed and reluctant.Cute clothes really work to get our girls ready for a workout. I'm not telling you it's going to be easy, but it's worth the effort to work out with your kids. Prep yourselves for the process. First, there's resistance (or you can call it friction in management terms). The first mile, I spend most of my time encouraging her that the running will get easier. Start slow and let the child set the pace, this isn't your workout, it's about them.
Phase 3: Let' stop. They will try to drag you down and quit. Fight the good fight. Tell them cute stories about when they were little, talk about the news, just don't tell stories of how hard it was for you as an athlete. The kids don't care. It's about them, so make it about them. We're lucky in NYC to have a great views that are conversation starters, like the rooftops of Chinatown.
Phase 4:Acceptance. Thank goodness for the endorphins, once they kick in your tween will be like a new person. This is where the good conversations happen. Ask questions, listen and continue to let them set the pace.
Phase 5: Gratitude. Three miles in we've hit our stride. We are chatting and laughing an picking up the pace. After the 5k, we finish and walk it in. My daughter finishes and says "Thanks mommy, that was fun, when can we run again?"
Easy? No.
Worth it? Yep.
Remember your role and go for it. You are head cheerleader in this particular movie.
Brands we Love for Tweens
As I said, great workout gear goes a long way towards inspiring your kids. The Rhythmic Tight in Digi Weave is great for winter workouts AND works well under ski pants (woot! multitasking). They have four– way stretch that make them perfect for getting moving. She's wearing it with the Tumblin' Tank ($36) she had an Ivivva wrap on when we started, but she got warm and finished in this tank. The racerback shape fits her perfectly.
Why do we love ivivva? The brand is all about inspiring a generation of girls who enter thier teens as extraordinary leaders - confident, just as they are. Ivivva is just for girls sizes 6-14. The clothing looks great--right on trend--but has all the technical requirements to make it perfect for workouts.
It's not too late to give a great gift like this--maybe shop with some Christmas money and plan a yoga workout after. Pop into an ivivva store this season. And bring the girls--they offer a variety of complimentary athletic classes and Dreams & Goals programs.
MORE RUNNING FROM MOMTRENDS
PIN IT!
Use Pinterest to save your favorite parenting articles. Be sure to follow our Running board here.
This is not a sponsored post. We were given samples to facilitate the photo shoot.