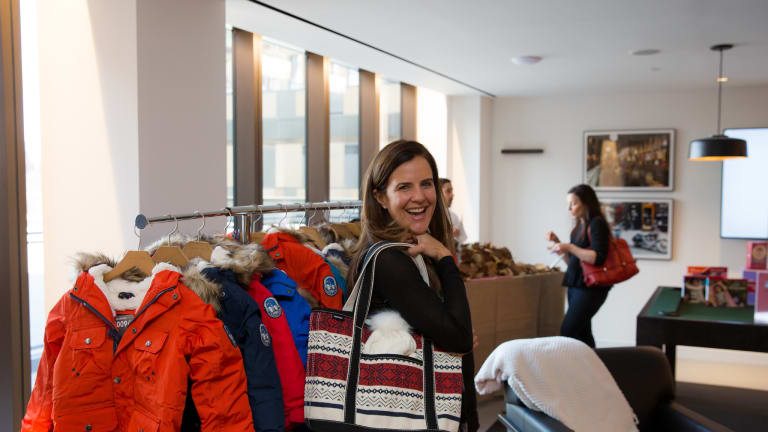 Inside the #MTHoliday Showcase Event
Tis the season to be browsing and shopping and spending... all in the name of holly jolly fun and festivities. And while we love hunting down the season's must-have gifts, we also know that it can be stressful and time-consuming. That's why we invited a crew of NYC blogger and influencer friends to our first-ever gift-guide showcase event--to help spread the word and highlight the hottest, coolest, and most wanted toys, games, gear, and gifts for kids.
We held our exclusive event at Essex Crossing at 242 Broome, a gorgeous Lower East Side condo-building with spacious open-concept floor plans, a stunning rooftop view, and incredible amenities. It was the ideal backdrop for a festive and intimate holiday affair.
We're not sure who had more fun: the kiddos discovering all the toys and treats or the grownups checking out the luxe space and enjoying the goodies from Dine Prive. This high-end private dining company provided elegant delights and delicious treats. 
So what made our top picks in our interactive in-real-life gift guide? Without further ado...
Amazon Fire Kids Edition Tablet With FreeTime 
The Amazon Fire Kids Edition tablet offers the best of both worlds this holiday-gifting season: education and entertainment—in one pretty package, complete with a kid-proof case, a two-year worry-free warranty, and a one-year subscription to Amazon FreeTime. There are three Fire Kids Edition tablets available, ranging in price from $99.99 to $129.99, with different size screens, storage space, and other varying features. 
FreeTime offers over 20,000 age-appropriate books, videos, educational apps, and games to choose from, hand-picked by the FreeTime experts so kids will never run out of activities and engagement. Plus, FreeTime comes with a suite of screen-time and content controls to help parents set educational goals and limit. Read more about why we think the Amazon Fire Kids Edition Tablet is this year's IT gift HERE.
Clearly, our kid testers had a fun time trying out the tablets. There was lots of learning and playing happening!
Lands' End
Baby, it's cold outside. Winter isn't even officially here yet, and we've seen some brutally frigid days in NYC. That's why we think every kid (and grownup!) should get a cozy, warm, functional, and fashionable jacket from Lands' End this holiday season. The Lands' End Squall Parka is waterproof, windproof, growth-spurt proof, and rough-play proof. And then, of course, don't forget to snag some hats, gloves, boots, and accessories to keep littles and bigs cuddly warm and cozy all season long. 
How fabulous to our mama models look in these Lands' End puffers?!
Mabel's Labels
We love personalizing gifts with holiday labels and tags from Mabel's Labels. They make everything more festive, fun, and special with customization. Mabel's Labels also make an awesome stocking stuffer for kids. They're durable and waterproof; and, best of all, you can use code MOMTRENDSHOLIDAY for 10% off until Dec 7.
Our bloggers and their kiddos got to decorate holiday cookies to take home in their own personalized (a la Mabel's Labels) tin.
American Girl
What little lady doesn't want an American Girl doll this holiday season (or lots of accessories and goodies for her favorite AG gal)? Give the gift of experience at an American Girl store--have tea or lunch, get ears pierced, or just stay and play. Luciana is the doll of 2018; she'd make a perfect present under the tree along with her books and DVDs. 
Our influencer swere excited to take home their own little Luciana doll from American Girl.
Our grownup and pint-size guests also left with goody bags filled to the brim with seasonal surprises and delights from our brand partners. They got a new Hasbro game, Don't Lose Your Cool (you have got to add this to your next game-night!), a Baby Alive doll, and a jar of yummy cookie mix from chocolate company, Sunspire.
This is a sponsored post. All opinions are our own.