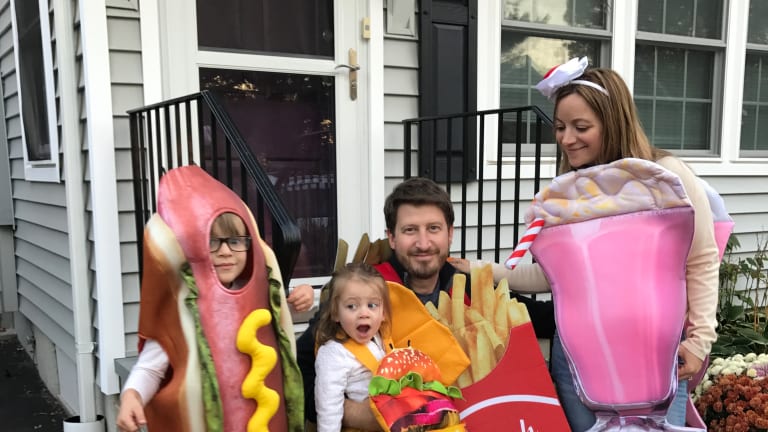 Publish date:
The Incredibles Easy DIY Family Halloween Costume
The Incredibles easy DIY Family Halloween Costume. Inexpensive, shop your closet and DIY Halloween costumes for the whole family.
I wasn't a huge Halloween fan--until I had kids. Now it competes for a top spot as my absolute favorite holiday. My littles get so excited the whole month leading up to Oct. 31. They want to watch not-so-scary scary movies, read chilling books, do all the carving crafts, bake all the ghoulish goodies, and eat all the candy! Their enthusiasm is infectious.--and I have to admit: I'm almost as eager to "BOO-ze" my friends as they are to BOO their school buddies. 
Related: Our favorite Halloween treat bags
Of course, the Halloween costume conversation begins early in our household. This year, I started hearing whispers of inspiration around mid-July! My "big" kiddos had seen the live-action Aladdin movie, and decided we should all dress up as characters (somehow I got cast as Jafar!). Fortunately for me, my preschooler changed her mind. In September, she proclaimed that she wanted to be a witch for Halloween. And not a pretty friendly witch. We're talking full green face, prosthetic nose, and hairy mole! Ha! She made that decision and stuck with it! A week out from Halloween, and she's still pumped about it. Good thing too, because now the whole family is going "classic Halloween!."
I love a good family costume theme! Last year we went as Zombies from the Disney movie. The year before, we were a fast-food family! Our community is big on Halloween, so lots of families dress up together--and you might as well do it while they're young and before they get super opinionated (ha!). 
Another great option (and oldie but a goodie--and especially relevant with the release of the sequel) is the Incredibles family. You can easily purchase Incredibles costumes in the store--or you can ditch the expensive store-bought costumes and make your own! Here's how!
Easy DIY Incredibles Costumes for the Whole Family
Incredibles Logo Shirts. Get plain red short-sleeve t-shirts for each member of the family. Find the Incredibles Logo online and visit a print shop to use their iron-on machine to put the logo on each shirt. The total cost for the five shirts could run about $90. You could easily do this at home if you print the logo on iron-on transfer paper. Google The Incredibles logo to find the best image for your needs. (Tip: An image with the png extension will have a clear background which will look better on a red shirt.)
Masks. Purchase masks for the adults and big kids at a Halloween costume store. 
With your shirts and masks, shop your closets or hit up Amazon for Black Leggings or sweats and long-Sleeve black tees. 
And there you have it--a super-easy thrown-together family halloween costumes. Meet The Incredibles!
WANT MORE HALLOWEEN FROM MOMTRENDS?
PIN IT!
Be sure to follow Momtrends on Pinterest and for more spooky inspiration follow our Halloween and Thanksgiving Boards here. 
This is not a sponsored post