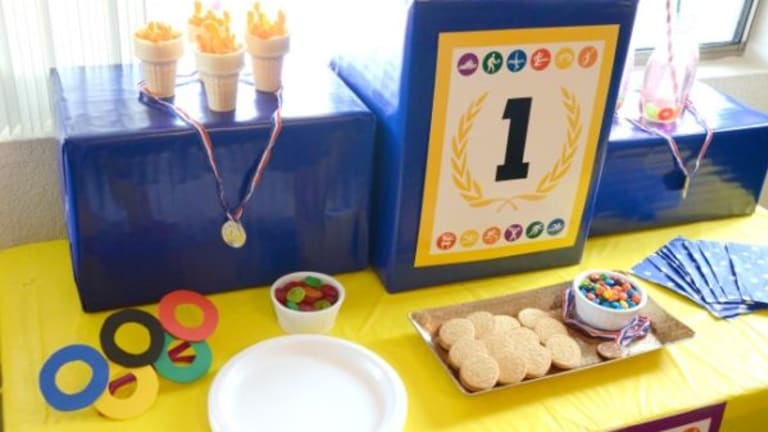 How to throw an Olympics Party for Kids!
Get your kids excited about the upcoming Olympics with a fun party all about the joy of competition and cheering for your team.
We've waited four long years, plus an extra one thanks to COVID and the summer Olympic Games are finally here! This year the summer Olympics are being held in Japan. Our kids are really old enough at ages 7 and almost 3, to enjoy watching and cheering for Team USA! We're celebrating the Opening of the Olympic Games with this fun Olympics party for kids!
Decorating for Your Olympic Party
First of all, set the scene with Olympic games decorations. We may be team USA for this Olympics party but the flag banner shows the spirit of the Olympics with all the countries coming together. The paper fans were the color of the Olympic rings which made a nice background.
Also, be sure to display some mini American flags on your table and throughout your Olympic party for kids.
Get the kids ready to watch the Olympic games with this easy Olympics Glasses craft. We snagged some discounted sunglasses and foam sheets from Micheal's and created these for my kids to wear while we watch the Olympic games. These glasses are a perfect craft to get the kids involved during your Olympics Party for Kids. Be sure to watch our quick video tutorial for this Olympic craft.
Olympic Party Food
Every good kid's party has some fun food and this one doesn't disappoint. The kids enjoy the ice cream cones filled with Cheeto's to look like torches.
In addition to our torches we also served a tray of medals (cookies) and kept the colorful Olympic theme going with a bowl of M&M's to snack on the go.
Our party table was set up to resemble the winner's podium at the Olympic games. Rather than buying cake stands to display our goodies we covered old boxes with wrapping paper. We got these cute summer games signs to use throughout our party.
Of course, a cute drink is in order for our Olympics party. This drink is easy to make and becomes infused with fruity flavors. All you need are some Lifesaver candies and a clear soda. Add one Lifesaver of each color to your glass (or milk bottle containers in our case) and top with your bubbly soda. Add a fun colorful straw and viola! The lifesavers look like the Olympic rings in the bottom of your glass and as a result they slowly dissolve to add more flavor to your drink while party!
Olympic Party Games
In addition to giving out medals to the kids, we scattered a few around our party table for Olympic decorations.
And finally, you can't have an Olympics party without a game to get everyone in the competition spirit. This disc game was just easy enough for our youngest players and can be made harder even for adults by just backing away. A fun lawn game for your Olympics party for kids.
What sport are you most excited about watching with your kids during these summer Olympics? My kiddos both take and enjoy gymnastics, so we'll definitely be watching the USA mens and women teams compete in gymnastics.
More Olympics Fun from Momtrends
Pin it!
Want more ideas on how to have fun with the kids during the games? Be sure to follow our Olympic Fever board here.