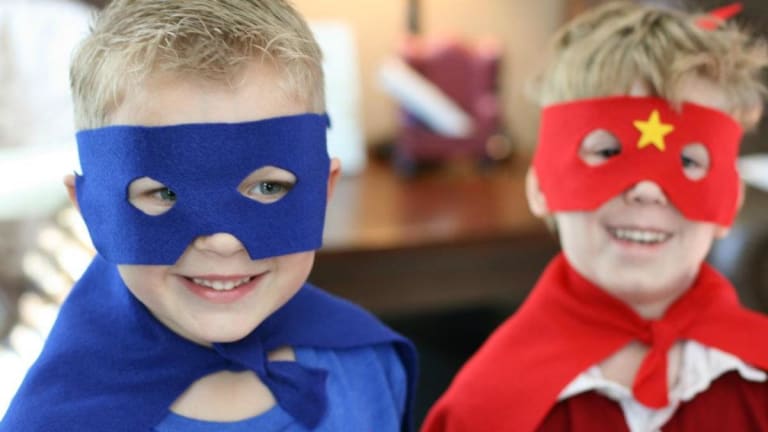 How to Throw a Superhero Birthday Party!
Fabulous details on how to throw a Superhero Themed Birthday Party
This weekend my son was so excited to attend his BFF's birthday party. And, when I say BFF, I mean it. The two boys are joined at the hip and talk about each other constantly. It's really quite cute. So, while my little man was enjoying an amazing party with his friends I was admiring all of the fabulous details of the Superhero Themed Birthday Party. It was awesome!
Related: Free Super Hero Printables
My friend Leslie is seriously multi-talented! She took my maternity and pre-baby family photos and designed and organized the entire party. I'm so happy she is allowing me to share the details of how to throw a superhero birthday party!!
Superhero Party Activities
The superheroes arrived to a felt cape with their initial. The first activity of the party was to decorate the cape with stars and lightning bolts. Each boy had his own bag of sticky decorations - so they just had to remove the backing and stick the shapes to the cape.
My little superhero and the birthday boy!

Superhero Cape Decorating Activity
While decorating their capes, Leslie had some breaking news to share with the boys. Turns out there was a "Bad Guy" on the loose in our neighborhood! Leslie passed around a photo of the "Bad Guy" and told all the superheroes to keep their eyes peeled. Next activity? Weapons training to prepare for a run-in with the enemy. They did some NERF slingshots and bow and arrow practice, aiming at bulls eyes with a photo of the "Bad Guy".
And then they spotted the "Bad Guy" (aka Leslie's husband and the birthday boy's dad)! The boys were armed with silly string to capture him!
Superhero Party Food
The party food was clever and very five year old boy friendly. The kids enjoyed Wonder Dogs (homemade corn dogs), Jello Jabs (portioned jello), Power Puffs (cheese puffs) and Superade (Gatorade). I loved how she used the red, yellow and blue color theme throughout the party from the capes to the balloons to the food.
The food was displayed on a table with a handmade cityscape backdrop. I am not sure the boys appreciated the awesome details, but I sure did!
Superhero Party Favors
In addition to taking home a cape and mask, each boy got to grab a few treats on the way out. They each got a superhero coloring/activity book, Punching Pops (Pop Rocks), Heros (candy dispensers) and red, blue and yellow candy sticks.
Happy Birthday, Noah! Thank you for an awesome party, Leslie, and thanks for letting me share the details.
MORE BIRTHDAY PARTIES FROM MOMTRENDS
PIN IT!
Be sure to follow our Kids Birthday Party board on Pinterest for more party inspiration.