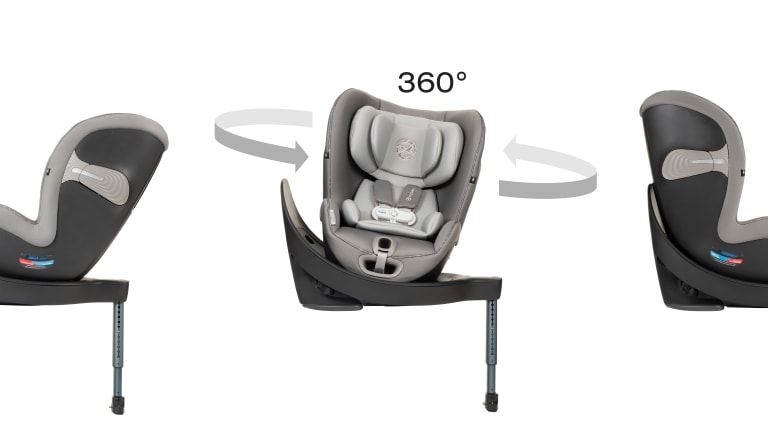 How to stop battling with your car seat with this new product
Cybex's Sirona S car seat is the first convertible car seat in the U.S. with a one-hand 360° rotatable seat and load leg.
The singular frustration of dealing with car seats scarred me for life. I'm out of this phase, but I still remember the battle to get baby in and out safely and securely. Cybex has been working on this universal problem and has come up with a revolutionary design. They've essentially figured out how to stop battling with your car seat with this new product. 
Related: 5 game changing baby products
The new Cybex's Sirona S
The new Sirona S from Cybex makes switching between rear-facing and forward-facing positions quicker and easier than ever by eliminating the need for re-installation. This is the only convertible car seat in North America with a one-time vehicle belt installation for both rear-facing and forward-facing mode.
When it comes to installing the base, Cybex has made that easier too. The EasyLock bar reduces force needed up to 4x for quick, simple and secure installation. Once you've got the base set up in your car, you are good to go...for years!
Comfort and Safety for Baby and Parents
But the big news is the Sirona allows parents a convenient entry/exit position that reduces uncomfortable lifting for the parent. Can I get an amen? No more twisting of your spine to get a squirming baby in the seat. With this easy access, you might even be able to keep a sleeping baby sleeping after you arrive at your destination.
And no more maddening buckles. This has magnetic buckle holders which make entry and exit from the seat a breeze.
On the road, the ride is pretty cosy. The Cybex Sirona S comes with a 12-position recline adjustment. And with this car seat you can make adjustments even while a child is in the seat.
It will be the only car seat your child needs. Start in rear-facing from 4 lbs. to 50 lbs. and then easily rotate to forward-facing from 22 lbs. to 65 lbs.
Cybex Also Focuses on Safety
The new convertible car seat also features SensorSafe technology that syncs with a caregiver's smartphone to provide alerts when a child is left unattended after the car turns off, a child unbuckles themselves, or the ambient temperature around the child becomes too hot or too cold. We're all for gentle reminders to keep the kids safe. 
Find out more on the Cybex site here https://cybex-online.com/en-us
Sirona S retails for $499.99 and is available in Manhattan grey at buybuy Baby (Premium Black and Indigo Blue colors coming soon).
MORE BABY SCOOP FROM MOMTRENDS?
Pin it
Need more ideas on what to do with the kids? Be sure to follow our Baby Things to Love board on Pinterest here.
Momtrends was not compensated for this post.