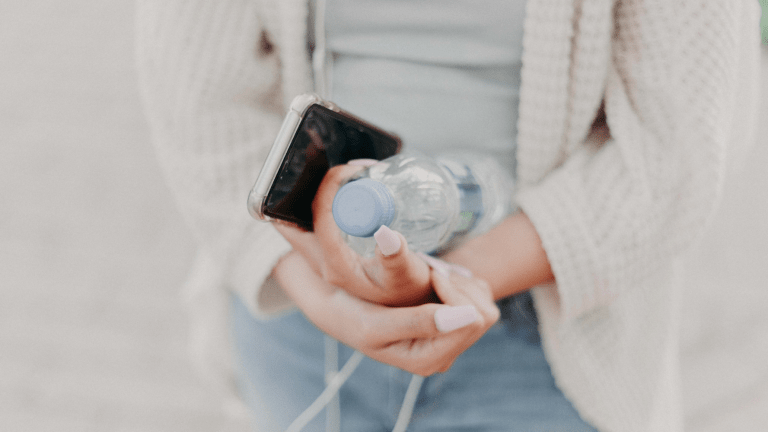 How to Stay Hydrated When Breastfeeding
If you had told me when my daughter was born almost 23 months ago that I'd still be breastfeeding as she rounded close to two, I would have told you that you were barking up the wrong boob. 
I love nursing, but I always imagined that our feeding journey would wrap around a year -- once solids and meals were well established. I also shamefully admit htat I found the idea of breastfeeding a toddler somewhat awkward. I remember once telling a friend that once they can request it, it's time to stop. I realize in hindsight, of course, that my statement was judgmental and close minded. It was also ironic, because fast forward and my little girl will tug on my shirt and ask for "boof." 
Around a year ago, the COVID-19 pandemic began. We found ourselves stuck at home with nothing to do, so the weaning I had planned kind of went by the waist side. I figured, we might as well keep doing this! And now here we are, still with nowhere to go and nothing to do, except enjoy the extra skin-on-skin snuggle time.
One thing I have sometimes neglected to continue whilst engaging in extended breastfeeding: the non-stop hydration. In the early days, I was always sure to get enough water. I'd diligently carry a bottle with me throughout the day, and always met my quota. Now, with a big little one and an established milk supply, I find myself more frequently forgetting. Nevertheless, it's still as important as ever to get plenty of H20 for yourself and your babe. 
Whatever stage of breastfeeding your at -- know this: Breast milk is about 90% water. Lactating women are advised to drink 128 ounces of water per day, give or take. One smart tip is to piggyback on drinking water while nursing. Newborns breastfeed about 8 to 12 times a day, so having a glass (8 oz) of water before or after every feeding. Of course, if you are nursing a toddler, they probably will not drink nearly as often or as much, so take cues from your body and drink when you are thirsty. While drinking more water won't increase a mother's supply, drinking too little water and becoming dehydrated can decrease milk supply.
If you've got a newbie who's just learning to latch, an infant who is established with breastfeeding, or a toddler who's still hanging on to the "boof" like mine, here are some tips to help you stay hydrated.
1. Drink water first thing in the morning - as soon as you wake up, rehydrate your body and knock out a few of those 16 cups. Try drinking at least 1 cup of water before any other beverages, like coffee.
2. Keep a liter water bottle handy throughout the day - after 2 ½ bottles you've already met your quota! 
3. Piggy back with nursing sessions; try having a glass of water before or after every feeding.
4. Set a reminder on your phone - set reminders on your phone to drink a cup or more every 3 hours.
5. Flavor your water - makes drinking water more enjoyable by flavoring it with citrus, like lemon.
6. Eat hydrating foods - watermelon, cucumbers, pear, cantaloupe, strawberries, broths and soups all add to your daily hydration level!
Want more from Momtrends?
1. Breastfeeding During Covid-19: What You Should Know
2. Make Your Own Fruit-Infused Water
This is not a sponsored post. Tips courtesy of RD Jessica Bippen and Essentia Water.