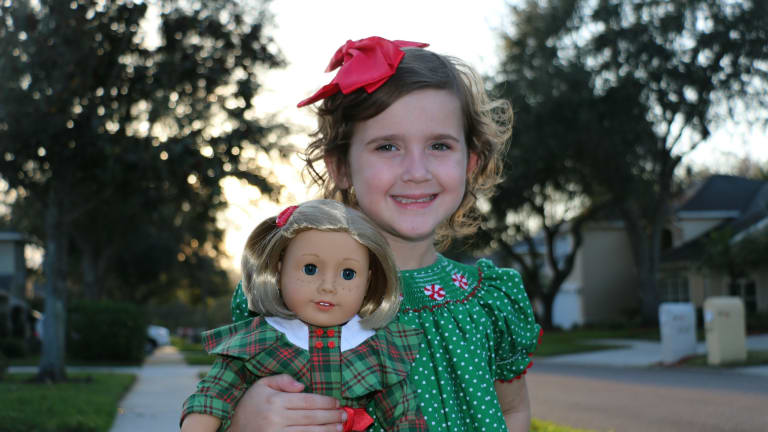 Publish date:
How to Start a Mother Daughter Tradition
Start a tradition the two of you will look forward to every holiday season...
Growing up my mom always made a point of establishing special holiday traditions with my sister and me...And we still continue those traditions to this day. So, when I found out that I was having a baby girl of my own, I instantly started thinking about what kind of mother daughter tradition I wanted to start with her. Attending a performance of The Nutcracker was at the top of my list. Up until now she's been a bit young to see sit through a show that long, but now that's she's in her third year of ballet and fully enthralled with it, I figured now was the time to start that tradition!
Now obviously she had to have a special outfit for the occasion. I'm a sucker for a smocked holiday dress and this darling green polka dot print, peppermint candy bedecked frock was a perfect match for her large and in charge red bow and classic black Mary Janes. And while I do love the classics, I also like to add a modern edge to things. Enter print mixing...Her darling American Girl doll, Kit, just had to wear her plaid Christmas outfit so she coordinated with her little owner's polka dots. Bwah! 

Are those two quite the pair or what?! American Girl has actually become part of our holiday traditions too. She may not receive a doll every year, but a new outfit or book will be under the tree as long as they make her eyes sparkle. Plus, I just love their #GiveWhatCounts focus on gifting and delight in giving my daughter stories that tell of a girl's strengths, courage and dream chasing! Because encouraging my daughter to go after her dreams is everything to me! Whether that's dancing in the Nutcracker or becoming a doctor...
So, if you've too have been thinking about starting your own mother daughter tradition, don't wait! No matter what is, I can promise you that your little girl will love continuing it on with when she's long past childhood and maybe even with her own daughter someday. Just as this grown up daughter! Did I mention that my mom joined us for The Nutcracker? I told you we're all about tradition!
We were not paid for this post. We did receive samples and it does contain affiliate links.